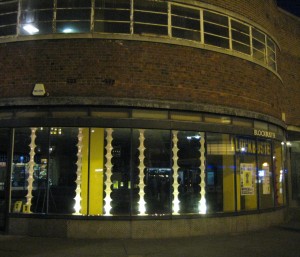 An exciting new venue has been announced for this weekend's Open Studios and Art Trail. The building, on Southgate Circus and formerly occupied by Blockbusters, is part of Charles Holden's station complex built in the 1930s, and is set to provide a stunning showcase for the weekend.
Open Studios connects a love of the area with a love of the creative arts, says organiser Dan Maier.
"Our aim is to connect the public with creatives in the area and show the sheer quality and variety of work which is going on on our doorsteps and in our community. At the same time, we want to show the potential of our high streets, and the way in which art and local creativity could act as a regenerator.

We only have one weekend a year, but we hope the effects will reach far beyond and encourage people to support local businesses – not just those who work in arts and crafts and local workshops, but all kinds of local businesses – cafes, shops, galleries and a range of other venues."
Over the last two weeks the team has been working with shops and businesses in the area to create window displays, with stunning results – worth a wander round Palmers Green, Southgate and Winchmore Hill in itself to explore. This year, thanks to an Arts Council grant, the weekend also includes a number of free workshops, alongside the opportunity to view work by over 30 artists, designers and crafts people, and a chance to buy from them direct.  Why not download the guide to plan your weekend?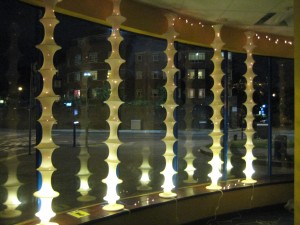 Meanwhile, as we write, the Open Studios team are completing work on a special installation at the new venue in Southgate, focusing on their mission to make our high streets more vibrant and stop the rot of empty shops. Handover of keys was yesterday morning, and the installation needs to be ready by 10.30 on Saturday. It's a tough call, but you know that somehow they will do it, and what's more, that it will be amazing.