Hardly a week seems to go past without another new book about London. Here are some that we have enjoyed in particular.
The London encyclopedia Ben Weinreb and Christopher Hibbert Monumental and indispensable
A Journey Through Ruins; the last days of London Patrick Wright looking at Hackney (in particular Dalston Lane) in the 1980s as a way of looking at British life. "I wrote this book when the second world war, in which East London was heavily bombed, still loomed large in local memory"
Some Lives – a GP's East End Barnet born Dr David Widgery writes about his experiences in the East End
London – A companion guide David Piper. Why would I need a London guidebook you may say. But Piper tells you what you really ought to know about London's history in an entertaining style
Lost London A century of demolition and decay Hermione Hobhouse published in 1971 and now out of print, a survey of lost London buildings which will make you want to weep. The book set out a plea for preservation in the face of so much already lost. Philip Davis/English Heritage recently published another book of photographs from the London County Council Collection under a similar title, Lost London 1870-1945 which is also very worth having.
Downriver Ian Sinclair wonderful, sometimes headmangling. Many of Sinclair's ideas seem to end up in Peter Ackroyd's books and novels
The Spell of London, The Nights of London, In Search of London, Ghosts of London, The London Scene, The London Year, H V Morton's London H V Morton. Morton began writing about London in the 1920s. His oft reprinted books are charming, always highly entertaining, not always quite believable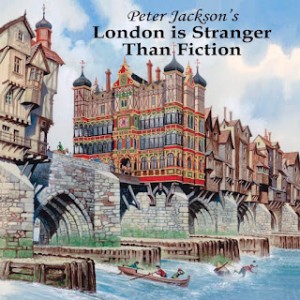 London is stranger than fiction, The London Explorer Peter Jackson. Jackson produced these fantastic, detailed and informative cartoons for the London Evening News from the 1940s. The cartoons were digitized and reprinted by Bear Alley books in 2012. Great for kids and adults alike.