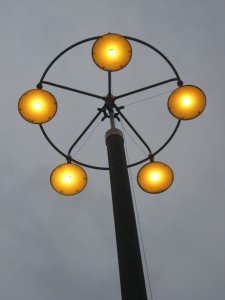 Eighty years ago today, on 13 March 1933, the very first passengers streamed through the round ticket hall of the newly opened Southgate station, armed  with free return tickets to Piccadilly Circus, part of a London Underground opening promotion to local residents.
We have got used to the wonderful, now Grade II listed, stations on the Piccadilly Line, but its hard to imagine what people must have thought in staid and respectable Palmers Green as the new art deco-inspired station emerged at the tail end of 1932, on land which had til recently been countryside.
The new Underground station wasn't the first 'Southgate'. Palmers Green station was known as Palmers Green and Southgate until the 1970s, and New Southgate had been opened in 1850 (though it was originally known as Colney Hatch). Plain old 'Southgate' also wasnt the only option  on the table prior to opening. Other suggestions included 'Chase Side' and 'Southgate Central'.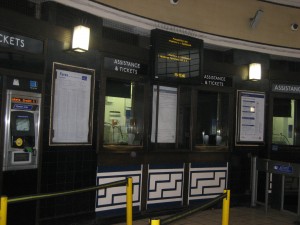 The stations on the Piccadilly, as well as many on other parts of the underground, were designed by Charles Holden, a man who can truly be said to have changed the face of London. Notoriously modest – he refused a knighthood on two occasions, arguing  that architecture is collaborative work, not of one individual –  Holden described his stations as brick boxes with concrete roofs, but behind his modesty was an obsession with form and function combined with remarkable attention to beauty and detail in everything from structure down to fixtures and fittings.
Holden's background was far from privileged. Born in 1875, he had left school at 13 to become a railway ticket clerk, before becoming an apprentice to a Manchester architect and graduating from Manchester Technical College. In 1899 he came to London and the employ of H Adams, architects.
Holden was initially influenced by the arts and crafts movement before becoming increasingly drawn to a kind of classical, stripped down, modernist style in which his prime interest was solving functional problems – for example, in the case of 55 Broadway, how rainwater could be harnessed to clean buildings.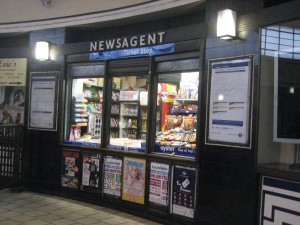 Holden first met with London Underground managing director Frank Pick in 1915 when both became founder members of the Design and Industries Association (DIA), set up with a mission to improve standards of design in public life with a mantra of 'nothing need be ugly'. His first commission for London Underground was a redesign of the façade for Westminster station, and in 1924 he was commissioned to design stations on a new southern extension to the Northern Line, from Clapham Common to Morden. He ultimately became involved in the remodelling or design of over 50 stations and as well as designing London Underground's HQ at the aforementioned 55 Broadway, which, at 10 stories, dwarfed the buildings around it when it opened in 1929, a kind of first sky scraper.
In 1930 Holden and Pick embarked on an architectural tour of Northern Europe, prior to beginning work on the Piccadilly Line.  The buildings they saw in Holland, Sweden and Germany influenced the development of an instantly recognisable style, one that  was to be crucial in the next phase of LU's quest to establish itself as a modern company, pushing forward to a new future.   The architecture of the Piccadilly line was used to publicise the  newly opened line, which was promoted as a tourist attraction – 'come and look', said the posters.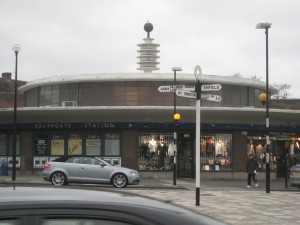 Last year, despite some opposition from local people, the tatty roundabout in front of the station was restored to its 1930s appearance, setting off the station once again.
Holden's station still appears weird and wonderful today, though its vision of the future is very much of its time, and would be at home in Metropolis (1927) or the original Flash Gordon films (1936).
Says RIBA's excellent micro site on Holden
At night, Southgate station emanated an eerie glow and with its dramatically lit canopy and futuristic beacon on the roof, looked more like an alien space ship than an Underground station.
Love it or hate it – and I hope you love it – this amazing piece of architectural history is ours.
More information
Bright Underground Spaces: The Railway Stations of Charles Holden
London Underground By Design
Underground, Overground: A Passenger's History of the Tube
London Underground archive video of the creation of the Piccadilly line extension. http://www.ltmcollection.org/films/film/film.html?IXfilm=FLO.0004&_IXSESSION_=pZHBpNg1DHH
Modernism in London – page on Southgate http://www.modernism-in-metroland.co.uk/southgate.html
RIBA's micro site on Charles Holden and his work with London Underground http://www.architecture.com/LibraryDrawingsAndPhotographs/Exhibitionsandloans/VARIBAArchitecturePartnershipexhibitions/UndergroundJourneys/UndergroundJourneys.aspxntastic mG