Most of the houses in the new Edwardian suburb of Palmers Green were set back from the road with a small front garden, fronted by a red brick wall decorated with lava bricks. Early pictures of Palmers Green show the startling uniformity of the streetscape, a dusty road often with a horse and cart making its way down the street and grocers' delivery vans making their calls.
With the growth of suburbia, and the somewhat idealised allure of a semi rural existence and fresh air, gardens were becoming a status symbol in the Edwardian period. The Victorian passion for order and colour (including liberal use of annual bedding plants) gradually gave way to a fashion for creating a rustic, 'cottagey' idyll on Arts and Crafts lines, using traditional crafts, methods and materials, and bringing house and garden into harmony.  Old fashioned was in fashion.
In terms of planting, this meant hardy plants, roses, lavender, trees under planted with spring bulbs, and paths lined with grey foliage, pergolas and clematis. Among wealthy trend setters, Japanese style gardens or influences were also popular – 1910 saw the Japanese British Exhibition at White City, which included a number of Japanese gardens. High class shops stocked bamboo, water lilies, lanterns and bronze cranes.
For the Edwardians, gardening was often idealised as a family activity, and time together in the garden a signifier of domestic harmony. The Edwardian period saw the  a flurry of books encouraging children to get out in the Garden, including the Children's Book of Gardening by Mrs Sedgwick, and Gertrude Jekyll's Children and Gardens published in 1908. Suttons sold collections of seed specifically marketed with children in mind.
In Twiggs Way's fascinating book A Nation of Gardeners, the author notes that Edwardian children may have been lucky to survive the experience!:
"Edwardian children were instructed in such risky task as spreading lime and soot (against slugs), mixing liquid manure, taking cuttings with a sharp knife and spraying liquid paraffin against aphids."
 Jekyll suggested that children whittle their own wooden tool handles.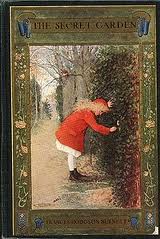 1911 saw the publication of a book which forever cemented the relationship between children's imaginations and the garden, Frances Hodgson Burnett's The Secret Garden. The book explores the healing power of nature. In writing the book Burnett was profoundly influenced by the ideas of American Christian Science founder Mary Baker Eddy.
With the coming of the First World War and blockades on shipping, gardens were turned over to more practical purposes, as they would again be in 1939.  Women's input was no longer restricted to the flower border as woman of all classes became involved in growing herbs and vegetables.
Paving
In the 1930s, in the words of Twiggs Way, neatness and paving in particular became the 'gardener's mantra'.
The evidence of this can be seen all over Palmers Green to this day (indeed, some seem to be positively in love with paving!). Crazy paving was particularly popular, some using coloured cement. Patios were created leading from  French windows, and the Victorian idea of the rockery full of small neat alpine plants took off in earnest , as did adoption of lily ponds . Front gardens were particularly formal
'with a paved narrow path, narrow borders (often with standard roses) a handkerchief of lawn and a central sundial or birdbath".
There still remain a number of gardens in Palmers Green with these elements, although more usually paved at the centre rather than grassed, and many date from a later time.
The car has been the enemy of front gardens and indeed the streetscape in Palmers Green. What were once streets of beautify uniformity, each with an immaculate front gardens, is now often a hotch potch of drives, cars and eccentric front garden innovation. However, a brief walk on a summer's evening would satisfy anyone that Palmers Green is still a place full of garden lovers.
Sources / more information
"A nation of gardeners" Twiggs Way  – an absorbing history of the history of the everyday garden
The Garden Museum, Lambeth – well worth a trip http://www.gardenmuseum.org.uk/page/1/Home
BBC History of Gardening http://www.bbc.co.uk/gardening/design/nonflash_edwardian4.shtml#edwardian_themes
The Japanese British Exhibition 1910 – link to a page from studygroup.org.uk, a site dedicated to exhibitions down the ages  http://www.studygroup.org.uk/Exhibitions/Pages/1910%20Japan-British.htm