It may seem odd to think about Palmers Green having cinemas. Today it has none, but for many years it had two, including one of the biggest and most state of the art in London.  
The Queens cinema
The Queens was opened by Mr and Mrs Rata trading as Electric Pictures Ltd (Palmers Green) in 1912 under the management of a Mr Dudley Brenda, and was a sister cinema to Queens Hall in Enfield.
According to Geofrey Gilliam in Theatres, Music Halls and Cinemas in the London Borough of Enfield, it was rebuilt in 1927 with the arrival of 'the talkies', at which point a balcony was added and the capacity increased to over 1000. The cinema closed in September 1967 and the building demolished in 1971. The site is now occupied by Waitrose. 
The Palmers Green Palmadium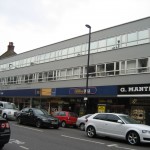 Once situated on the site of Store 21 and its immediate neighbours, the Palmers Green Palmadium was the first super cinema in London. Seating over 2000 it was opened by Sir David James in 1920 and designed in the Beaux Arts style by J Stanley Beard (1890-1970), who was responsible for many of the cinemas around London. Faced in in white ceramic with red brickwork and apple green tiles, the theatre had a large orchestra pit, organ and 14 boxes, 7 on either side, and a billiard hall.
The Palmadium first opened its doors on Christmas eve – a west end orchestra was engaged for the occasion, and a full orchestra often played.  
Hansard of 1926 includes an account given by Lord Philimore in of a visit to speak at the Palmadium 
About two years ago I was asked to speak at a meeting about the League of Nations in what, I think, is one of the finest halls in London, though it is not generally known. It is called the Palmadium, and is in the North of London. I had never heard of the district, and I am ashamed to say I have forgotten it. I said to someone who knew that part of London: "What is that district, and what sort of people am I going to speak to? "He said: "It is a dormitory."
It was renamed the Gaumont in 1951 and closed in February 1961. If you look at the present buildings from just inside Lodge Drive, the footprint of building still gives a reminder of the former occupant of the site.