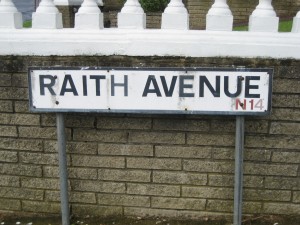 Following last week's article on Warren Mitchell (Improbably famous in Palmers Green # 2 Alf Garnett),  we have managed to piece together a little more information on Mitchell's childhood and schooldays in the area.
Though born in Stoke Newington, Mitchell grew up in Southgate. The family moved to Raith Avenue sometime in the 1930s, presumably into a newly built home – all the houses on the north side of the road date from then.
Mitchell reminisced about his schooldays at Bowes School and Southgate Country School in an article about inspirational teachers in the Times Higher Educational Supplement in 2008
My teachers were all marvelous. But the one I remember with great affection was a tyrant called Mr Sinden. When we went into his class aged nine or 10 he said to us: "You'll all be taking the scholarship exam next June and you will all pass; I have never had a failure. Heaven help any one of you here who jeopardises my record."

He then hounded us for the whole year, the net result being that we all passed the scholarship exam. I realised that the man loved us and intended that we should have a good start in life.
He repeated the story to Jonathan Sale of the Independent in Feb 2000 and went on to recount  memories of Southgate County School in Fox Lane.
I enjoyed my time at Southgate County School. The Blitz was on; it was exciting and there was not too much bombing around us…I was a pretty naughty boy. They used to say "you'll never get anywhere" and then I would come top. This upset staff. The headmaster once said he was unable to congratulate me as he should do in the case of someone who came first because of …and then there was an asterisk referring to my 31 detentions that term."
Thank you to Richard McKeever of Bowes and Bounds Green Connected and Joe Studman for the additional information and links.