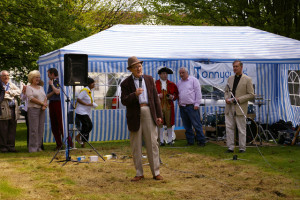 Our thoughts this week are firmly with the family and friends of Ron Moody who sadly passed away on 11 June aged 91. Living for many years near the Cherry Tree, he was often seen around Palmers Green.
Charles Dickens' Oliver Twist was already loved by many, but it was Lionel Bart's film production of 'Oliver!' that made it forever part of so many people's lives – not for Mark Lester's saccharine Oliver but for Moody's amazing Fagin.
Moody had been horrified by the anti Semitism in Alec Guinness' 1948 film and he and Lionel Bart set out to "get Fagin away from a viciously racial stereotype, and instead make him what he really is – a crazy old Father Christmas gone wrong."
Though Moody, to his frustration, became primarily associated with that role and complained at times of typecasting, he was multi-talented, with a degree in sociology, philosophy and psychology. He was a writer as well as a performer, producing the words and music for a play about Joseph Grimaldi in the 1960s. And he came close to becoming the third Dr Who instead of John Pertwee.
His last reprise of the voice of Fagin was three years ago, in this wonderful short film Fits and Starts of Restlessness: a night walk tracing the path of the lost Fleet River, through the shadowy streets of Saffron Hill where Dickens located Fagin's den in Oliver Twist. The film includes extracts from  interviews with juvenile offenders undertaken on board the Euryalus prison hulk, Chatham, and from the passages in Oliver Twist in which Oliver enters  London. It's just over 5 minutes and well worth your time. (Go straight to https://vimeo.com/36635949 if you are  unable to view)
[vimeo]https://vimeo.com/36635949[/vimeo]