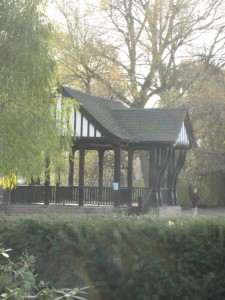 The last few days have seen local groups in uproar following the news that Enfield won't be taking part in London Open House this year. Apparently, Enfield has pulled out because it was unwilling to pay the £4,000 contribution required for its participating venues to appear in the Open House guidebook.
However other sources are suggesting that the real reason is that the Council is concerned about the number of hauntings and strange occurrences in the borough, not least the appearance recently, after a long absence, of 'Bandstand Bob' in Broomfield Park, glimpsed by a lady walking her dog just before the park closed. Bandstand Bob was associated with Broomfield House and the area by the lake, but hadn't been seen since the fire which reduced the structure to its present state in the 1990s.
A few weeks ago there was also the discovery of a manuscript during the Town Hall renovations which indicated that Palmers Green was one of the three haunted hamlets of Middlesex, and that local people participated in rituals to keep witches at bay – a kind of Palmers Scream. The document is currently being examined by Dr Susan Devereux, lecturer in Early Modern History.
A source close to the Council has indicated that the borough is concerned that recent developments, combined with the current showing of the Enfield Haunting on Sky Living, is 'creating a backward image' for the borough.