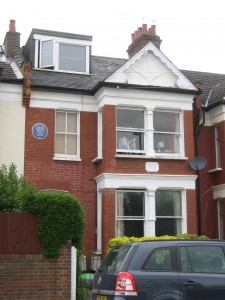 After a run in Chichester last year, Hugh Whitemore's play Stevie transfers to the Hampstead Theatre this month.
The biographical play follows Stevie Smith as she commutes to her secretarial job at a publishers, spending her evenings with her beloved maiden aunt here in Palmers Green, at the house in Avondale Road where she lived almost all her life. It's a life of suburban routine, which, as in her famous poem Waving not Drowning, conceals something rather darker beneath.
The production, starring Zoe Wannamaker and Lynda Baron, has garnered good reviews from The Times and The Independent, though some others have been less glowing, about the production, and, apparently, about the life affirming possibilities of living in Palmers Green.
Stevie runs from now until 18 April at the Hampstead Theatre. Tickets are £18-£35