Christmas may be over, the leftovers becoming a public health risk, and your Christmas tree droopy, but there is a whole New Year ahead….
2013 sees the 400th anniversary of the opening of the New River. Discovering London's  Peter Berthoud will be leading a two-day walk along the full length of the river (which isn't a river and isn't new) in September.  It's also the 100th anniversary of the opening of Grovelands Park – celebrations are planned in May – watch this space!
The Palmers Greenery café in Broomfield Park is hopefully due to open soon (check their Facebook page for updates) and we shouldn't have to wait too long either to find out the result of the Heritage Lottery Fund bid for Broomfield House.
The SPACE Art Gallery has its launch night this weekend, and looks set to be amazing. The programme of exhibitions and events already reaches into early 2014, and includes Ross Ashmore (currently on a quest to paint every London Underground Station), Russian painter Alexander Bessanov, Ann Lunden Jakoby, and Conrad Mecheski . In February there is a group exhibition of more local artists including Annabelle Dawson, Samantha Lesley and  Helen M Ryan. Meanwhile, the wonderful Southgate and Palmers Green  Open Studios and art trail event runs again on the weekend of 8-9 June.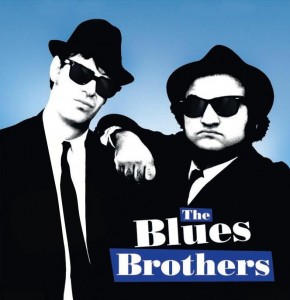 The Talkies Community Cinema is going from strength to strength. The next event,  a showing of Strictly Ballroom, is sold out, but there are tickets on sale for the next event, Dan Ackroyd and John Belushi in The Blues Brothers at the Fox on 20 February. Give them some lovin'….
Peter Brown of the Broomfield Museum Trust will be giving a talk on Broomfield Park at Trinity at Bowes on 24 January at 2pm. Peter is a really fascinating man  – go along if you can.
If you are feeling energetic, or indeed sluggish, why not join the Grovelands park run every Saturday at 9. Its free, and a mixed ability group – just join them next to the lake opposite Grovelands House. More information (and registration for your bar code so you can track you times) at www.parkrun.org/uk.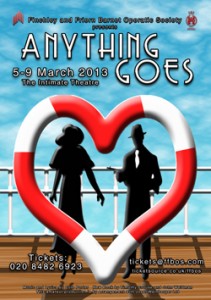 Poetry in Palmers Green will meet again on 27 April with a line up that includes Grevel Lindop, Martha Kapos, Nancy Mattson, Graham High and Lynda How. The venue is St John's Church and tickets are £5(£3.50 concs).Further details from  myrarschneider@gmail.com mail@katherine-gallagher.com
Finally, for you theatre goers, Finchley and Friern Barnet Operatic Society will be returning to the Intimate Theatre on 5- 9 March to perform Anything Goes.