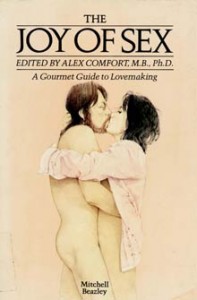 The highly proper, curtain twitching Palmers Green of the 1920s seems an unlikely birthplace for a writer who…er…shall we say…. reached the parts that others could not reach…but Palmers Green it was that gave the world Dr Alex Comfort, writer of one of the most famous and game changing books of the 'make love not war' generation.
Alex Comfort was born in Palmers Green on February 10 1920. It was a happy childhood, surrounded by books. Aged 15 he blew off four fingers of his left hand while making fireworks with a school friend  His antics meant that his parents were unable to keep him in school and so he was home educated, before going on to Highgate School and eventually studying natural sciences at Cambridge.
Comfort was a prolific writer right from the start, and first went into print aged 17 with a novel called The Silver River, based on his experiences travelling with his father in Africa and South America.  While training as a doctor during the war he became interested in pacifism, registering as a conscientious objector even though his damaged hand would in any case have exempted him from active service, conducting a public debate with George Orwell and eventually becoming an anarchist and publisher of political tracts. In 1961 he was imprisoned for his role in demonstrations against the bomb, and passed the time teaching Irish Republican songs to fellow inmate Bertrand Russell.
Although he wrote 51 books in his lifetime, including poetry, novels and plays, as well as conducting groundbreaking work in the study of ageing, it was 1972's  The Joy of Sex for which Comfort, to his chagrin, will always be remembered.  Dashed off in just two weeks, the result of concern about the ignorance of medical students about the fundamentals of the birds and the bees, "the unselfconscious text" (quoth the Guardian) – combined with illustrations featuring a very ordinary looking man and woman – "showed a lively interest in all sorts of highways and byways of sexuality", organised under cook book style chapter headings. The text condemned the prudery of 'squares' and suggested that the American involvement in Vietnam might have come about because of 'uninteresting sex'. His serious point was that lack of human connection can have tragic results.
In later life Comfort taught psychology at Stanford University and then the University of California. In the last years of his life he returned to the UK, and was nursed by his son Nicholas in Kent. He died in 2000 at a nursing home in Banbury aged 80.
I have not been able to establish how close his ties remained with Palmers Green after his childhood, or exactly where Dr Comfort lived. Perhaps you know more….?
References / sources
Guardian and New York Times obituaries
http://www.guardian.co.uk/news/2000/mar/28/guardianobituaries
http://www.nytimes.com/2000/03/29/us/alex-comfort-80-dies-a-multifaceted-man-best-known-for-writing-the-joy-of-sex.html