We are getting used to constant change in Palmers Green. Shops come and go. Nail bars and betting shops seem to spring up overnight
But delve further and you will find that there are still a few shops in exactly the same use in 2014 as they were one hundred years ago. We have now lost C A Phillips art shop and picture framers, run by the same family for 94 years until it closed in 2012. But honourable survivors include Seward's funeral directors and WH Smith, both still in exactly the same premises they were in the early days of Palmers Greens Edwardian expansion and in exactly the same line of business.
Andreas Sallas's salon at 480 Green Lanes is another survivor. There's been a hair salon on the same site, opposite St John's Church, since before the First World War.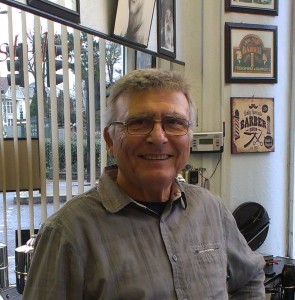 Andreas bought the business in the 1970s and held on to its fixtures and fittings including the original ironwork and bowed windows until the shop was hit by a car some years ago. The driver was uninsured and Andreas' insurance company refused to pay for restoration but Andreas still keeps the interior simple and classy in keeping with the shop's old dignity. His 40 years in business means that many of the boys whose hair he first cut in the 70s now bring their own children in.
In the corner of Andreas's salon there is a picture taken in the 1920s of a man and a boy standing proudly in front of the shop, then called Mann's, the English Hairdresser. Andreas' theory is that the unusual stress on English was because of the war – Mann was a common German name, and foreign sounding businesses could be vulnerable in the atmosphere of patriotic fervour.
The picture was presented by Mrs Elizabeth Hodgson, granddaughter of the original owner Frank John Mann, now living in Barnet but with vivid memories of her family's time in Palmers Green.
"My grandfather, Frank John Mann lived in Hoppers Road and his hairdresser shop, now 480 Green Lanes, was formerly 52 'Promenade' " remembers Elizabeth.
"My grandfather worked almost to his death in 1959/60.  The shop had an interesting frontage with wrought iron – the sign above the door read "Haircutting Shampooing Singeing Shaving Saloon'."

"The unusual thing about this shop is that it also served as my grandfather's studio as he was a prolific artist. Customers took in their photos or pictures they wanted turned into a painting, I have 9 of them – 7 on the walls and 2 in the cupboard (they are of me as a young child!).  One is dated 1947 and all are signed "Mann".

"Frank Mann was married to Florence May and they had two sons (both now deceased) – my father, Leonard Francis (born 1910) and his younger brother Jack.  My father became known as "Bill" and he played rugby (Saracens) and sang in choirs etc., later he held a senior post with the Northmet, which became Eastern Electricity and was based at Northmet House (formerly Arnos Grove in Southgate) for some years – I have memories of Christmas parties there and the impressive staircase.  I have a couple of slides of the work being carried out on the frescoes on the ceilings (I hope they are still there)."
Does anyone have Frank Mann's pictures still hanging in their house, or remember visiting for a short back and sides? Elizabeth would love to know.
*This  article first appeared in the Palmers Green Life magazine