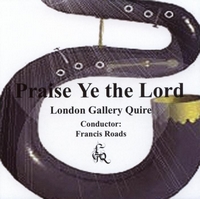 West Gallery Church Music is what you would have heard in many churches up and down the country before it was common for churches to have their own organs.
There is a rare chance to hear west gallery music played live at Enfield's St Andrew's church on 27 October, when the London Gallery Quire give an evening performance.
The event is one in a series to support the restoration of St Andrew's  C18th organ, which is being taken away to Liverpool in a few months for a complete overhaul.  "So we will be playing music to restore the organ, which was exactly the music that the organ replaced!" laughed David Holliday, one of the church organists showing visitors around the church as part of last weekend's Open House .
West Gallery Church music is so described because it was often performed by a band of singers and instrumentalists from a gallery at the west end of a church. Explains the Quire's website.
"It differs markedly from cathedral music, both in style and function. It was written for and in many cases by amateur musicians; professional performance was not usually envisaged. Much of the repertoire consists of settings of the metrical psalms; there are also hymns, anthems and canticles.
The music is often of a very lively and joyful nature; too lively indeed for the reformers of the mid-19th Century Oxford Movement, who sought to replace it with the more staid and solemn repertoire typified by Hymns Ancient and Modern".