The Alfred Herring, 316-322 Green Lanes
Not an old pub by any means, this Wetherspoons shop conversation is named after a Palmers Green hero, awarded the Victoria Cross for his bravery during the First World War.
Herring (1888 to 1966) was born in Tottenham but was living at 143 Fox Lane when he joined the army.  In 1918 Lieutenant Herring recaptured Montaigne Bridge in France, plus 20 prisoners and 6 machine guns, holding up against counter attacks for 11 hours, largely because of his ability to keep up his men's morale.   After the war he became an accountant. http://www.jdwetherspoon.co.uk/home/pubs/the-alfred-herring
Inn on the Green, 295 Green Lanes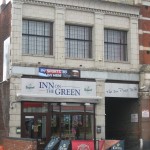 Inn on the Green, to the south of the triangle, is converted from a building which was once a builders merchant's. There is a pleasant garden at the back and occasional live music. No website that I have been able to discover.
The Live Room, 236 Green Lanes
Opened in December 2010 with a focus on live music, though their events page for 2012 is blank at the time of writing, and promotional messages on Facebook indicate that it may now be moving towards sports bar territory. Find out more on their website http://www.theliveroomlondon.com/home
The Occasional Half, 67-77 Green Lanes
The Wishing Well, 9 Aldermans Hill