Song writer, musician and inspiration for a generation ( 1952- 2002)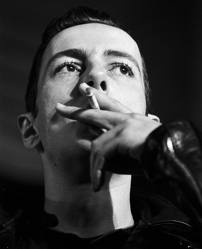 While studying on a foundation course in art at the Central School of Art and Design (now St Martins) in 1970-1 Joe Strummer, singer of the Clash but then known as John Mellor, lived in a flat at 18 Ash Grove. His flatmates included girlfriend Deborah Karton, Tymon Dogg,, artist Helen Cherry, and future guitarist with The 101ers, Clive Timperley. Collectively, they named the flat 'vomit heights'.
In Chris Salewicz' book Redemption Song: the ballad of Joe Strummer, residents of Vomit Heights recount  that year in Palmers Green. The name apparently may not have come from excessive alcohol consumption – though there was certainly plenty of indulgence, particularly in drugs – but a reference to a reggae like song written by Dogg and Strummer which included the line 'chuck it in a bucket'. However, in the book Karton remembers, "At Ash Grove we were nightmare tenants. We played music loudly until 4am." One morning Strummer placed transistor radios in the garden and banged dustbins to keep his stoned flatmates awake.
More about Joe Strummer
http://www.theclash.org.uk/joetheearlyyears.htm Website devoted to early Clash by Julian Yewdall
Chris Salewicz Redemption Song: the ballad of Joe Strummer