I hope you had a great Christmas. We did, though there were some recent losses amongst family and friends, and not everyone was as well as I would have liked them to be. But it's a cathartic time, and one where  we hopefully end the year reminding ourselves, if we are lucky, of the love all around us, and that however difficult life is sometimes, there can still be sparkle and possibility.
This year we all got one other, amazing present. The Bourlets clock, long fallen  into sad decay, and telling the right time only twice a day, re-emerged from behind scaffolding and covers, beautiful and fully restored. No fuss, no ceremony, just there, renewed.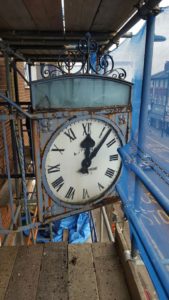 The renovations were carried out by Frix Vasou whose family owns the building and for many years ran the audio visual shop which occupied the premises up until 2014, Frix had  long wanted to restore the clock but the costs looked like they would be astronomical. Then the shop was leased to Costa Coffee, and leaks to the building following heavy rain meant roof repairs and scaffolding –  Frix asked for it to be reconfigured so he could get a look of the clock up close. The clock was then gutted, rubbed down and painted, and new clock faces, hands, motors and LEDs from a clock tower specialist were modified by Frix to fit the clock. There is now a new electric supply and remote control capability so that the clock can be reset in spring and autumn and a few more tweaks since the clock reemerged to get it to a state where Frix is happy with it,
'but its done and it's finally working, which is what counts.'

It will be up there for many years to come. I have enjoyed bringing it back to life and hope that it brings enjoyment to others too.'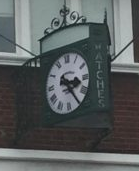 If one person can do that what could we all do, if we gave up moaning about this and that, and just got on with what we can do for our area, here and now…?
So I wonder what 2018 will hold for us. For me, it seems like time to take some real pride in Palmers Green, take advantage of the cleaner, newer streetscape, polish the pilasters, remove the taxi card stickers, cherish the old and build something new.
Happy New Year!