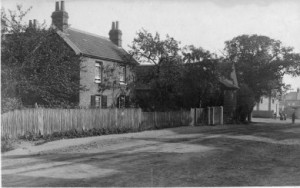 Clappers Green Farm occupied the areas between Fox Lane, present day Bourne Hill and the railway line between Green Lanes and Caversham Avenue. The farm spanned forty acres,  and was bisected by an ancient footpath which ran from Green Lanes to the present day Mall. The farm buildings themselves were on the North side of Fox Lane between Selbourne Road and the Mall on the opposite side of the road.
The last harvest in Clappers Green Farm was in 1908. Last farmed by the Bunce family but owned by the Walker family, the farm was put up for sale in 1908 to the consternation of Fox Lane residents, who had been lead to believe that that the land would not be developed for the foreseeable future.  Said the recorder in May1908, 'it is certain that in the development of some parts of the estate no good will be done to those holding or occupying houses now standing in Fox Lane."
Purchaser of the biggest lot – the farmhouse and the easterly part of the estate – was builder W J Edwards, who had already built the Ulleswater Estate.  Initially there were rumours that Edwards would build at least some shops. There were also fears for the ancient footpath, said to have been there for 500 years, and entreaties to the council to retain the right of way.
Fears for the old Clappers Green footpath have continued.  The right of way through the old Southgate school has been lost, though the line of the path through Corrib Court can still be seen, and one of the old trees which presumably once lined the path still sits in the car park. In 2012 there is a dispute over the final part of the footpath as it nears Green Lanes, as developers try to push forward with plans to develop the orchard area alongside the railway line.  One of the difficulties has been establishing ownership.