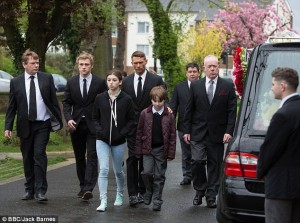 Ian and Peter Beale were wracked with grief. Christian made a surprise reappearance. They were all  at St John's church this week as Palmers Green became an honorary part of Walford.
The cast of Eastenders were all in Palmers Green to mourn the death of Lucy Beale. Lucy is set to be 'offed' by a person unknown on Friday.
Its not PG's only connection with Eastenders. Dot Cotton's theatre company did a production at The Fox in the 1990s. Oh, and Sonia Jackson (Natalie Cassidy) lives locally. But she hasn't been in it for ages.