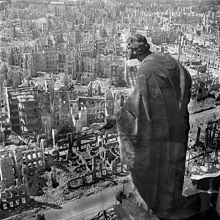 A memory of a talented Palmers Green family by journalist Frances Sealey.
Visiting Dresden in the last week was quite an emotional experience in several wayand not least that it reminded me of a remarkable family that lived in Palmers Green.
The O'Duffy family were a multi talented one. Michael the father was a very accomplished singer of Irish folk songs and he performed on several occasions for the Enfield Committee For Racial Harmony at some of our events including a huge event of over 300 people in the Edmonton Banqueting Hall with contributions from our ethnic communities that ended with a West Indian Steel Band.
His eldest son Paul was a talented music producer who I think worked with Paul McCartney.
But it was the youngest son Cormac who had the links with Dresden. Cormac was a music teacher and taught many young people including my daughter the piano. Cormac was passionate about bringing communities that had been in conflict together to heal and reconcile.
With him I once arranged a showing at his church of the banned BBC film "The War Game" that dramatized the effect of nuclear war on London – a film that impacted on all who saw it.
But Cormac also felt the tragedy that people went through in Dresden as a result of the mass bombings on that City during the War. Equally he was also concerned with what had happened in Coventry.
Dresden was bombed in February 1945 with 39,000 tons of high explosive killing around 25,000 people through both the blast and the following fire storm. The blitz on Coventry took place in 1940 with over 4,300 homes being destroyed as well as the Cathedral.
Cormac wanted to bring the communities of Coventry and Dresden together and composed a Requiem for that special occasion that was performed in front of an audience from both communities.
I felt the emotion of that whilst I stood in the square to listen to two young people singing opera to the audience gathering round in such beautiful tones that it made me think of Cormac and his deployment of music to express common humanity.
As the singers finished lightening lit up the sky and blasts of thunder could be heard across the city and again I thought of 1945 knowing that was the sound they heard then – only that time it brought not lightening but bombs and death.
Cormac O'Duffy from Palmers Green helped the world to move on from that dreadful time and through his Requiem find peace and reconciliation.
A Dresden Requiem – Cormac O'Duffy Music