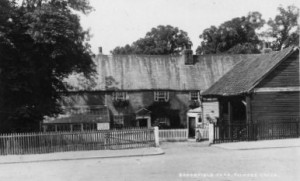 Hampton's Farm (Broomfield Farm by 1867 according to the ordnance survey of that year) was located the other side of the Powys Lane at the junction with Broomfield Lane, just across the green by Littlers pond. By all accounts, the farm was something of a beauty spot. The last farmer was Jabez Hampton.
The farm was demolished in 1912, but the Hamptons had more than one string to their bow, also running a business as a cartage and public works contractor. Their stable, blacksmith and wheelwrights shop were situated on the east side of the railway, north of Broomfield Lane.
Dumayne speaks of a walk to inspect the last remnants before the area was developed into the site of present day Morrisons (then Safeway) in the mid 80s. The Hampton's, diversified further in the 1920s, with the creation of Hamptons Electrical Company, and then Southgate Auto Electric Company.