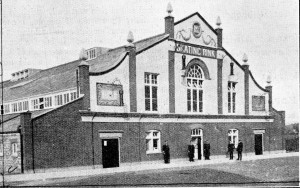 If you think that nothing about Palmers Green has ever been cutting edge, then think again. Or perhaps not.
In October 1910 John Cathles Hill, a speculative builder who had been responsible for much of the development of the Bowes Manor Estate (and two of north London's most beautiful pubs, Crouch End's Queen's Head and Green Lanes' The Salisbury), opened  a vast hall to cater for the craze of the age – roller skating.  Named the Rosalie, on its opening day, 700 people thronged to whizz round on the maple floor, to the accompaniment of a military band.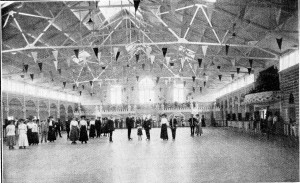 Unfortunately Hill had opened his new amenity just a little too late. After a rousing start, visitor numbers quickly fell off a cliff and by 1912 the building was sold to the London Omnibus Company. The failure of the rink may have been the last straw for Hill, who at one time had been a major builder and owner of the largest brick kiln in the world. In 1912 he was also declared bankrupt  with a deficit of over one million pounds.
The roller rink building is still standing, now the home of rather more enduring wheeled transport in the form of Arriva buses. In 2004 Maurice Cullum, Mike Wormall, Ted Simpson  Arriva employees at the garage, decided to research the history of the bus garage further.  The result was  Palmers Green Bus Station – a comprehensive history, a 140 page tome detailing the history of the building and of London buses in the area. If you see it, grab it, because it now often goes for extortionate prices on the internet.
Nomination for the local list: Palmers Green Bus Station
This article has been prepared as part of the process to nominate buildings and landmarks to Enfield's updated local list. For more information see http://www.palmersgreenn13.com/2015/09/11/every-street-in-palmers-green/. And if you have any suggestions for buildings which aren't listed but should be included in the local list, please get in touch. But do get in touch soon, as submissions need to be in by the second weeks in November.