It is of course well known that John, Paul, George, Ringo and Eleanor Rigby all came from Palmers Green  – and that Maxwell bought his silver hammer in Westlakes, having failed to find one with the appropriate hallmark in the pound shop.
In commemoration, Talkies in partnership with Second Sight Films will be marking the 50th Anniversary of the heady days of 1964 with a special showing at the Fox of The Beatles' seminal  feature film, A Hard Day's Night, restored, remixed and now in glorious high definition.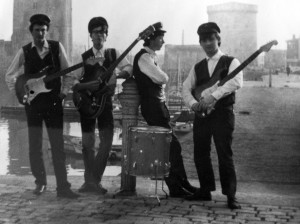 There will be live music from Geoff Simpson's the Sonnets, a sixties combo who at the time specialised in covers. Geoff went on to play and write songs for the West Coast Consortium, (later Consortium) who released a number of singles that dented the lower end of the top 40s.
There will also be a Beatles quiz and, of course, an opportunity to dust off that Beatles' wig and jacket.
The date for your calendar is Wednesday 22 July and tickets are on sale now.