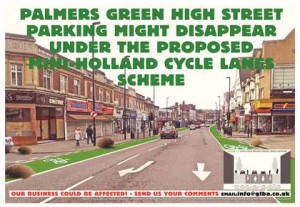 Palmers Green's local businesses association is up in arms about the potential implications of new 'mini Holland' proposals being masterminded by Enfield Council.
Green Lanes Business Association has called a meeting tonight (9 April) at the Vadi restaurant at 6pm to discuss its concerns that the mini Holland proposals, while promoting cycling, would remove parking on Green Lanes, with huge impacts on local business.
The 'mini Holland' money was recently awarded to Enfield by the Mayor of London as part of a project to improve facilities for cyclists across the borough. It adds to a rather bewildering combination of plans for the area – what is approved, what is simply being consulted on, and what actually has funding to ever move forward? What about the Triangle, which local residents seem unanimous that they want to keep?
"Parking may disappear along the length of Green Lanes/London Road, from Enfield to south of Palmers Green if the Council gets its way," says the association in a recent email, alongside a mock-up of what they believe Palmers Green would look like: "Free of parked cars but also free of customers." Those who do come to Palmers Green would be likely to park on busy residential roads.
The Green Lanes Business Association and the N21 Live Local group are working together to propose revisions to the plans "so that they don't threaten businesses and residential roads", and will be sharing their plans at tonight's meeting.