Tomorrow Monday 4 August we are being asked to switch out our lights at 10pm and light a single candle to mark one hundred years since the start of the First World War. I hope that it will be successful. I don't think war should be glorified but 16 million people lost their lives and 20 million more were wounded. Those who survived saw Britain and our wider world change forever. What exactly should we remember, if not that?
As time moves on, of course, our perceptions of the past and our relationship with it change, but for as long as I can remember in my own life, the events of the First World War have been writ large in my understanding of our history. It's not history in the Tudors-and-Stuarts sense, but much much closer, something that people I knew experienced at first hand.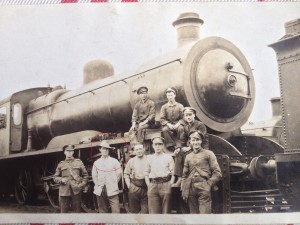 My granddad, Reg Beard, was in Palestine and Egypt during the First World War. He'd been a traction engine driver, and in 1914 was one of the few people who could drive; he probably had a good understanding of how machines worked too, so though we aren't sure when, he was sent to work on the Palestine railway.
We never knew much about what he experienced there: partly because we never sat him down to ask, but also because a lot of people returning from war simply didn't talk about those things, though he did used to say that in Palestine you could pick oranges from the trees and they were the best he had ever tasted.
My father often says "That's in the past now, move on". Perhaps that is what my granddad thought too. I do remember though, that there was a tattoo on granddad's forearm. I asked him about it once and he said it was because he had "been a naughty boy". For years after, I thought tattoos must be a kind of punishment. I think now that perhaps he got it in Palestine. Or Egypt. Or, perhaps more likely, Chelmsford.
To see the impact of the war on Palmers Green, you need only visit the Garden of Remembrance, tucked away at the Powys Lane/Broomfield Avenue end of Broomfield Park. It's a lovely, peaceful area with a pergola, formal gardens and a simple memorial to those lost in two world wars. 530 names are listed in the 1914-18 conflict, including many family names that are still familiar in the area today.
Some surnames are listed again and again. In the second world war this is often due to civilian casualties of bombing, but in the First World War it more likely tells the story of families hit by loss again and again as one by one their sons went to war, often willingly with best foot forward and even lying about their age to be able to take part. In his book Akenfield, Ronald Blythe tells us that many a lad who went to war actually grew a few inches taller on war rations, such was the diet of the farm labouring poor.
The story of the coming of war to Palmers Green as depicted in local paper The Recorder makes surprising reading now, knowing what we do. In the issue at the end of July there is no sense of what lay ahead and stories are of alterations to the town hall, liberal fetes and scarlet fever scares. By October, the Recorder was publishing lists of people who had joined up and the new rifle range at Broomfield Park, which had only been established a few weeks before but had 800 members and was getting through over 1000 rounds of ammunition daily. The Recorder itself did not make it though the war. It stopped suddenly in 1917.
There is one more sign of the changes World War One brought to Palmers Green. The expansion that had begun only 10 or 15 years before came to a halt. Some roads were stopped in their tracks, and there are tales that some houses started before the war went though it without roofs. It's one of the reasons why you will see different house styles in one street, and pre war motifs appearing in post WWI houses.
But this article is for my granddad, who survived the war with hat at a cocky angle, became the father of my uncle Reg and my dad Dennis – and chose to live his life in the present, and not tell the tale.
Enfield will commemorate the

centenary

of the start of

World War

One (WW1) in 1914 with an event at Broomfield Park's War Memorial on Monday August 4.Community leaders including the Leader of Enfield

Council

, Cllr Doug Taylor, Cabinet Member for Community Organisations, Cllr Yasemin Brett, the mayors of Enfield's twin towns of Courbevoie and Gladbeck Serges Deses Maison and Ulrich Roland, as well as veterans from the armed forces and members of the public will attend the event from 2pm. The event will feature speeches, poetry

readings

and

musical performances

of songs from the period, along with ceremonial

wreath laying

and the unveiling of a special

memorial plaque

arranged by the Friends of Broomfield Park.