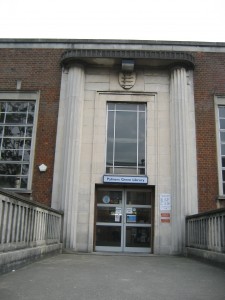 Palmers Green library will close for 14  months for refurbishment, according to latest plans approved by Enfield Council this week. However, earlier proposals to establish a temporary library in the Lodge Road car park behind McDonald's have now been shelved. Instead, residents will need to go to one of the other libraries in the area.
The main closure will take place between June 2014 and August 2015 but there will be a foretaste much earlier – the library will also be closed for two months from 23 November this year to early in February as work begins to segregate the library from the Town Hall ahead of the latter's redevelopment.
On the positive side, the library will be refurbished, there will be a new room available for community events, and the plans include the creation of a new public square on the corner of Broomfield Lane and Green Lanes. There will be new trees, seating, and a new clock tower (it seems that Palmers Green will soon be awash with elevated timepieces – there is another planned for the Triangle). For more information about the plans visit the Palmers Green Community website where there is an excellent article on the plans.