The next Poetry in Palmers Green takes place at the Parish Centre St John's Church this Saturday 19 October and features an impressive and award-winning line up.
Angela Kirby's poems have been translated into Romanian and have won prizes in several major competitions. In 1996 and 2001 she was the BBC's Wildlife Poet of the Year. Her collections are Mr Irresistible, Dirty Work and A Scent of Winter.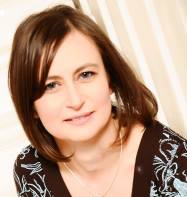 Sonia Jarema was born in Luton to Ukrainian parents and now lives in Enfield. Her poems have appeared on-line in Ink Sweat and Tears, Every Day Poets and in print in South Bank Poetry Magazine as well as several anthologies. She was shortlisted for the Enfield Mayor's Poetry Competitions 2010 & 2012 and Holland Park Press What's your History? 2012 Competition.
Kay Syrad's publications include her collection Double Edge (Pighog Press, 2012), Objects of Colour: Baltic Coast with photographer Gina Glover, a novel, The Milliner and the Phrenologist (Cinnamon Press, 2009), and an artist's monograph, Tracks (Thames & Hudson, 2012). She often collaborates with artists and dancers on public projects, reviews poetry and was recently guest editor for the poetry journal Artemispoetry.
Michael Bartholomew-Biggs is a co-organiser of the Poetry in the Crypt reading series at St Mary's church in Islington. He is also poetry editor of the on-line magazine London Grip. His poetry has appeared in many magazines and anthologies and he has published three chapbooks and two full collections. A new collection Fred & Blossom, set in the 1930s, was published this July. See also http://mikeb-b.blogspot.co.uk/
John Greening completes the line up. He has as published over a dozen collections. They include his Hawthornden chapbook, Knot (April 2012) and due this autumn: To the War Poets (Carcanet/OxfordPoets). He is a regular TLS reviewer and author of several critical guides to Yeats, Edward Thomas, Ted Hughes, the Elizabethan Love Poets and the War Poets. He has received the Bridport Prize, the TLS Centenary Prize and a Cholmondeley Award.
The event starts at 6.45 for 7.15 pm. The Parish Centre is behind St John's Church, 1 Bourne Hill/corner Green Lanes, London N13 4DA. Tickets are £5(£3.50 concs) and there will be books for sale, refreshments and an open mic. To find out more about the event and Poetry in Palmers Green's other activities visit their Facebook page www.facebook.com/PoetryinPalmersGreen