This morning you may perchance have been propelled to work by the Captain William Leefe Robinson VC, a familiar sight on the Great Northern Route. The Class 313 train was named in 2010 in honour of a young pilot, the first to bring down an enemy airship during London's first – and now often forgotten – blitz.
H G Wells had predicted the use of airships in warfare as early as 1907 in his novel War in the Air. However, the potential threat from above was not initially regarded as serious. With the outbreak of the First World War, all that was about to change.
On 19 January 1915 at 6.40pm a young man at Ingham in Norfolk spotted what at first appeared to be two stars out to sea moving towards land. The craft went their separate ways about an hour later over the lighthouse at Happisburgh, dropping bombs on Great Yarmouth, Kings Lynn and Sheringham; nine people were killed and several more injured.
Britain already had its airships, but the sight of the slow-moving giants with their low, grumbling propellers, must have been truly terrifying. The invading airships were unwieldy to fly and highly flammable but they were also initially very difficult to shoot down. Their sheer bulk meant that a bullet puncture was insignificant – ordinary machine gun pellets were ineffective. They could fly at high altitude, way above the capabilities of aeroplanes.
But Zeppelins were also prone to being blown off course, and frequent errors in navigation meant that pilots often claimed hits for targets they had in fact been nowhere near. Over the coming year, towns in eastern England were frequently hit, either in error, or by airships jettisoning their bombs for the journey home.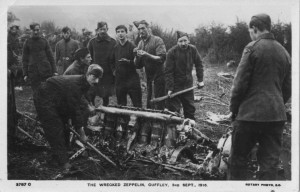 The Kaiser's initial policy had been to avoid civilian casualties, but first by accident and later by design, civilian casualties from air raids mounted. On the night of the 3th September 1916, the Germans launched their biggest raid on London, consisting of what is variously reported as 13 or 16 ships, mostly (but not all) Zeppelins. One non Zeppelin craft, a wooden- framed Shutte Lanze SL11, approached London snaking round from the North. Having dropped bombs on Finsbury and Victoria Park, the SL11 was picked out by searchlights over Alexandra Palace, and moving north to escape the beam was spotted by 21-year-old Robinson, who had already been in air combat for more than two hours that night. His BE2C by-plane was fast running out of fuel.
The spectacle that ensued was visible for miles around and must have been clearly visible in Palmers Green. After several unsuccessful sallies, Robinson dived at the thin end of the aircraft and strafed the ship with machine gun fire. SL11 burst into flames with a flash which was said to be visible as far away as Cambridge, and fell to the ground in a hill-top beet field behind the Plough in Cuffley. Though it was 2.30 in the morning, 'The sky was red', said the famous travel writer Norman Lewis in an unpublished autobiography, 'as bright as day'. For weeks, thousands of people poured to Cuffley to visit the site. Lewis's family were horrified to see the very young men of the German crew laid out in death in the little church at Cuffley prior to being taken to Potters Bar for burial.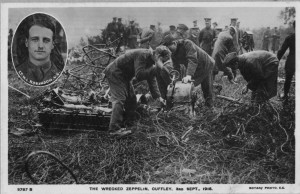 Robinson became a national hero and was widely reported to have shot down a Zeppelin even though the authorities knew from the beginning that this was not the case, possibly because news of the downing of a Zeppelin was thought to be more effective in raising public morale. The remains of SL11 were put on display at the Honourable Artillery Company in Moorgate (coincidentally now the frequent destination for the train in Robinson's memory), though by the time SL11 reached London a good deal had already been pilfered for souvenirs.
Robinson went on to serve in France before being captured, brought down by a wingman of the Red Baron. He made several escape attempts and survived the war, only to become a victim of the Spanish flu epidemic just a few days after the war ended in 1918.
Images by kind permission of Enfield Local Studies. This article originally appeared in the September issue of Palmers Green Life