It was a month of highs and lows, and not only in the temperature.
The success story of the month surely goes to the Palmers Greenery team, who learned that they have the go-ahead to create a new community café in Broomfield Park. There has been a huge amount of work to get this far, and its great to see their efforts being rewarded and a new community amenity to look forward to. Further down south, we also heard that regeneration of Ally Pally was to be one of 6 major projects across the UK to receive Heritage Lottery Fund support.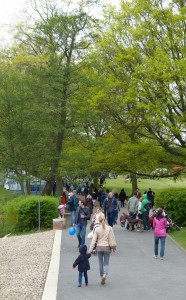 The Grovelands Park Centenary Celebrations will surely be talked about for years to come – the biggest gathering I have seen in all my time in the area, and full of colour, fun and a great musical line up, including the legendary Tornados of Telstar fame. Many thanks to Colin Younger for his photos of the day, which adorn this round-up.
Back home here on PGJITN, we got into the swing by telling the story of the day of Grovelands official opening and the shenanigans that were somewhat omitted in the more official reports of the time. We also found out more about the Thatched Cottage which once stood on the site of Westlakes, and Westlakes' previous incarnations of the local showcase for the wares of Montague Burton. Meanwhile our neighbours in Bowes and Bounds regaled us with the story of the kinky cobbler of Myddleton Road.
Finally, the sad saga of the Poundland Bansky seems to have been concluded with its private sale at an auction in London, at which it fetched over three quarters of a million pounds. That's 750,000 times the price of any article purchasable in Poundland. The mural is being taken to join a private collection of Banksy's work in the USA – though Banksy is reported to have said that once a work is removed from its location its no longer a Banksy.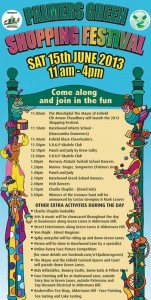 There is plenty to look forward to in June, starting this weekend with the Palmers Green Shopping Festival, our annual celebration of all that Palmers Green has to offer. Unlike many areas, we still have a reasonably thriving high street, with new businesses coming in, but like everywhere, the high street is at risk, and the shape of what it has to offer could change radically if we don't support our local traders. Hazelwood Road will be closed on Saturday to host a day of entertainment, including the wonderful SOUP ukulele orchestra, local singers and Greek Dancing from Hazelwood School. There will be street performers,  stalls, ice cream and a bouncy castle, and shops all over Palmers Green will be running activities and promotions.
Devonshire Road has long taken the lead in showing what can be done with a little bit of community spirit. Residents are currently exploring setting up a monthly 'play in the street' day, and this weekend they have come up with the fabulous idea of a draw on the pavement day. They also have a great Facebook page– come on the rest of Palmers Green, keep up! While you are out and about, why not also pop in to the St John's Church Flower festival including work by local children, all centred around the theme All Things Bright and Beautiful.
Coming up this month and beyond:
Tonight! The Others at St Harmonica's Blues Club
Friday 14 – Sunday 16 June All things bright and beautiful – St John's Church Flower Festival
Saturday 15 June Palmers Green Shopping Festival
Saturday 15 June Enfield Chamber Orchestra play Schumann, Ravel and Mozart at the United Reformed Church Fox Lane
Saturday 22 June Multifaith funday and football tournament MCEC (Palmers Green Mosque) 30 Oakthorpe Road
Sunday 23 June Winchmore Hill Quakers Benefit Concert featuring Paul Pulati and the Bandorians
Wednesday 3 July The Principal Theatre Company presents open air Shakespeare at the Old Ashmoleans Rugby Club, the Bourne: Hamlet
Thursday 4 July Talkies Community Cinema present Zero Dark Thirty at the Dugdale Centre
Thursday 4 July The Principal Theatre Company presents open air Shakespeare at the Old Ashmoleans Rugby Club, the Bourne: Comedy of Errors
Friday 5 July The Principal Theatre Company presents open air Shakespeare at the Old Ashmoleans Rugby Club, the Bourne: Hamlet
Friday 5 July Electric Mouse Comedy at the Fox: Adam Bloom
Saturday 6 July The Principal Theatre Company presents open air Shakespeare at the Old Ashmoleans Rugby Club, the Bourne: Comedy of Errors
Saturday 6 July Opening night at Space Art Gallery: Conrad Mecheski
Saturday 6 July St John's Church Summer fair
Saturday 6 July 12-4 Walker School summer fete – celebrating the school's diamond jubilee
Saturday 6 July North London Symphony Orchestra http://www.nlso.org.uk/Concerts.htm play Berlioz, Brahms, Elgar at the United Reformed Church, Fox Lane
Tuesday 16 July Around the Corner Cinema present  F W Murnau's The Last Laugh as part of the Mimetic Festival
Wednesday 17 July Talkies Community Cinema presents Oil City Confidential at The Fox
Saturday 20 July The Southgate Chamber of Commerce Southgate Summer Festival
Thursday 25 July Around the Corner Cinema presents Charlie Chaplin's The Kid at Enfield Grammar School as part of the Mimetic Festival
Sunday 1 September Palmers Green Community Festival