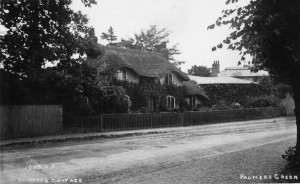 It may seem hard to imagine it now, but once upon a time Palmers Green was famed for a quaint rural attraction. Until 1938, the site of Palmers Green's excellent hardware store Westlakes was occupied by "Ye Old Thatched Cottage", a local landmark.
Alan Dumayne in his book Once Upon a Time in Palmers Green says that in years gone by the mere mention of the Cottage would bring a faraway look of sweet remembrance into old Palmers Greeners' eyes. The cottage had been built in the late 18th Century by the Governor of the Bank of England Thomas Lewis as a lodge to the big house, The Lodge, which once stood on the east side of Green Lanes.
The Cottage lost its rustic gardens to the widening of Green Lanes in 1906 and had begun to look a little sorry for itself by 1911 when it was rescued by one Percy Whellock, who had it as a garden shop and nursery (there were two acres of ground behind).  The cottage was a well-known attraction, with colourful and abundant bedding plants in front setting off its attractive rural thatch. It was demolished to make way for a branch of Burton's gentleman's tailors in 1938.
Well established and possibly at their zenith when they came to Palmers Green just before the Second World War, Burtons were founded in Chesterfield in 1903 by 18 year old Montague Burton (then known as Meshe David Oskinsky – legend has it that he chose his new name having spent several hours on Burton on Trent Railway station).
Burton's aimed to be an ethical employer by the standards of the time, giving generously to support the arts and even playing a role in the founding of the United Nations. One of Montague Burton's mottos was 'Good clothes develop a man's self-respect' and a full, smart but affordable three piece suit became known colloquially as the Full Monty.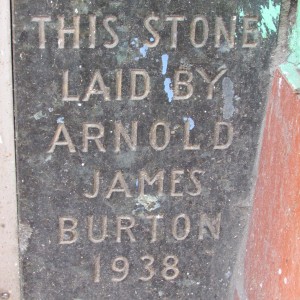 It was a Burton's tradition that the foundation stone for each new store should be laid by a member of the family, and Palmers Green's stone, laid by Montague's son Arnold James Burton, can still be seen. Far from being an elder statesman, Arnold was just 21 when he wielded the ceremonial trowel in Green Lanes.
If you ask nicely, Westlakes' staff will proudly show you a picture of the Thatched House and remains of the original fittings from the 1930s store, including a fine parquet floor. They will also cut your keys, supply you with a new phone, and give you DIY advice and the tools to transform your home, and do it all with a friendly smile. You don't get that at Homebase.
For more information about Montague Burton, see http://www.movinghere.org.uk/galleries/histories/jewish/working_lives/montague_burton1.htm#