Around the Corner Cinema returns in July with two new screenings as part of the 2013 Mimetic festival.
As with February's screenings, the emphasis is on the wonderful, silent and  seldom seen.
"The Mimetic Festival aims to celebrate the very best emerging mime, puppetry and cabaret in the UK – its a fantastic programme of theatre and arts, and experimentatation, and we will be showing arguably two of the best silent films ever made," says Around the Corner's John Stewart.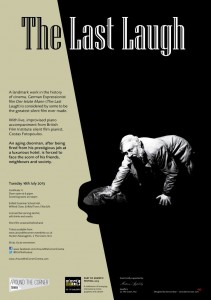 Made in 1924 and showing at Enfield Grammar School Hall on 16 July, the Last Laugh follows the story of an elderly doorman at a famous hotel who is demoted to washroom attendant and tries in vain to conceal his shame from friends and family, with tragic consequences – or are they?
The film was highly praised on its release, and is unusual in using almost no intertitles – more unusual still, when they are used, they do not represent dialogue on screen.  Director F W Murnau described his story in the Last Laugh as absurd – on the grounds that everyone knows that a washroom attendant earns more than a doorman!
This screening will feature live, improvised piano accompaniment from British Film Institute silent film pianist, Costas Fotopoulos who works internationally as a concert and silent film pianist, and as a composer and arranger for film, the stage and the concert hall. There will also be an introduction from  Pamela Hutchinson; Editor of Silent London, and Features Production Editor for The Guardian.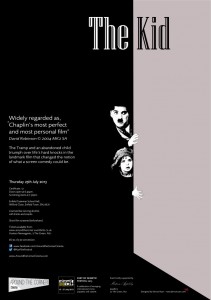 Showing on July 25th, also at Enfield Grammar School Hall, the Kid is one of Charlie Chaplin's most celebrated and most personal feature films. The Tramp (Charlie Chaplin) and an abandoned child (Jackie Coogan) triumph over life's hard knocks in the landmark film that changed the notion of what a screen comedy could be. An award winning short film (The Girl is Mime) directed by Tim Bunn, and starring Martin Freeman (The Hobbit, The Office), will be screened beforehand.
For tickets and further information, visit the Around the Corner website.
For further information about other events in July's Mimetic Festival visit http://www.mimeticfest.com.