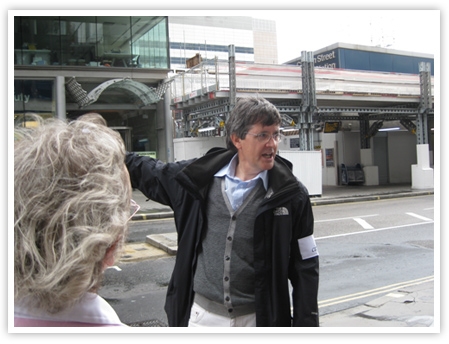 The Grovelands Park centenary celebrations continue this bank holiday weekend with three walks lead by City of London guide and storyteller Joe Studman (Jaywalks) in association with the Southgate District Civic Trust.
The weekend kicks off on Saturday with a spooky foray into the Dark Side of Winchmore Hill, including stories of old railway workers, black dogs and sinister doings in the woods. Meet at Winchmore Hill Station at 8.30.
On Sunday, Joe will be regaling fellow walkers with some nuggets from the history of Palmers Green including Billy Biscuit of Cullands Grove (the alleged coiner of the phrase 'readin, riting and rithmatic'), John Donnithorne Taylor's one man green belt policy, and Palmers Green's links with the Spencer family of Cannonbury Tower including a touching story of kindness from Elizabeth 1. The walk starts at 2.30 from Palmers Green Station.
Joe's final walk of the weekend tells the story of Southgate, including its gradual emergence from two villages, and some of the characters who have lived there and shaped its history – the owner of the first motorcar in Southgate, the lawyer who played with matches and got burnt, and the Walkers and how they shaped the area. Meet at Southgate Tube at 2.30 on Bank Holiday Monday.
Tickets are £5  – visit the Jaywalks site for further information, or just turn up on the day.
A highly entertaining way of spending the Bank Holiday.