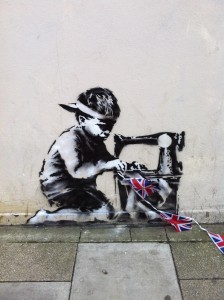 The saga of the Turnpike Lane Bansky continues with news today that the mural is to be sold in Covent Garden at the beginning of June.
The mural, called Slave Trade, appeared in Whymark  Avenue on the wall of Poundland in May last year but then disappeared mysteriously. It resurfaced at an auction house in Miami, where it was expected to be sold for up to £450,000.
Following protests from Haringey Council and outrage among local people and the art community, there were investigations into whether a crime had been committed, and the mural was withdrawn from sale.
However,  hopes that the mural might return to Haringey have been dashed with news that the Banksy is now again up for sale, this time via the Sincura Group. The auction is to be held on 2 June at the London Film Museum.