It was all rush rush rush in Palmers Green April.
Latest data published by the Office of the Rail Regulator revealed what we always knew – Palmers Green station is a tad busy. Roger Preston from FCC kindly furnished us with some additional data on some other stations on the Great Northern route. Some of them were even busier. But most were on the wider part of the route and all were interchanges. Looks like we are the busiest station that isn't.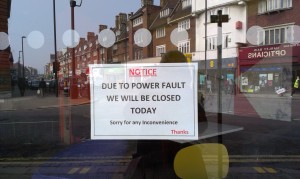 Palmers Green residents were distraught to be deprived of their burger fix in April when local Scottish brasserie MacDonald's was closed for a number of days.  Meanwhile, the gym on Green Lanes suffered from water damage, also briefly closing Westlakes below.
There was much local debate over the suspended coffee scheme. Enfield Chase's Karen Mercer, owner of My Coffee Stop on the platform, suggested that there might be better ways of helping the homeless than handing over money to Starbucks and other chains. The story was first covered in the local papers, and then went London-wide in the Londonist. In addition to running the coffee shop, Karen is the mastermind behind the Ideas Station, which provides training and support on social media. Sign up to her Facebook group to find out more.
Over in Westminster, our local MP David Burrowes campaigned for longer sentences for Chris Huhne and Vicky Price and opposed amendments to planning legislation which would have allowed individual councils to opt out of plans to relax controls on permitted development, in particular domestic extensions. However, Eric Pickles is understood to have given the red light to a compromise whereby neighbours are required to be consulted over extensions.
Mr Burrowes was back on Palmers Green's streets in April opposing plans to open yet another betting shop, this time on the ground floor of Trios Banqueting Suite, an issue which is attracting attention on all sides of the political spectrum. Let's hope the protest is successful in the way that it has been here in the past and more recently in Lewisham. Unfortunately fruit machines make huge amounts of money and betting shops and their ilk can move in because traditional shops are closing. If you don't want them here, then that's a big argument for making a resolution to use your local high street.
We unearthed a little more local history this month, including a fantastic piece of footage of a carnival in 1931 celebrating 50 years of Southgate as an independent borough from Edmonton, all shot in Palmers Green. We shone more light on the mysterious history of Truro House, Southgate Station turned 80, and we heard Chas n Dave sing about old Edmonton Green, and learned that the horsemeat scandal that rocked the country was nothing new – we had our own. Meanwhile, Grange Park was rocked by anarchist direct action, and a new local debating society was launched.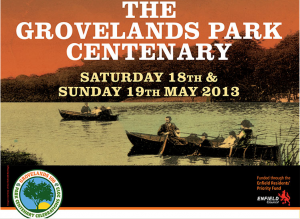 As we approach summer, the build-up is beginning for a number of local festivals. The first is next weekend when we celebrate 100 years since the opening of Grovelands Park. It looks set to be a fantastic event, with a pageant evoking the original opening ceremony, boats on the lake, music, food and a host of other activities. June 8-9 sees the return of Open Studios, now in its second year and bigger and even better than in 2012. June 15 is the date for this year's annual Palmers Green Shopping Festival, organised by local businesses, and 1 September the Palmers Green Festival, with a week's festival events building up to the big day. Meanwhile, Talkies continues at the Dugdale Centre, with its First Thursday series and some exciting additional events promised. More soon.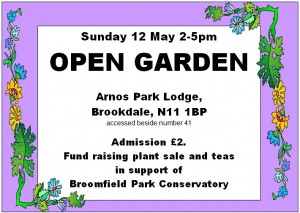 If you are at a loose end this weekend, why not pop along to Arnos Park Lodge to view Elizabeth Dobbie's beautiful gardens? The event is a fundraiser for Broomfield Park Conservatory, and there will be refreshments and the chance to buy plants from the local area. The entrance is beside 41 Brookdale N11, and the gardens are open from 2-5 on Sunday. You could perhaps combine it with a trip to see the new exhibitions by Reinhard Stammer, Marina Gruzer and Jasper Jones at the Space Art Gallery.
Finally, our thanks to Tony Ourris of Anthony Webb estate agents, who have kindly agreed to support this website. Thanks Tony!
And so we march on into Spring….
Sue from Palmers Green
All through May Space Art Gallery Southgate presents work by Reinhard Stammer, Marina Gruzer and Jasper Jones

Friday 10 May Hill Street Blues Band and Blue Patch at St Harmonicas Blues Club
Saturday 11 May St Paul's Church May Fair 11am-2pm
Tuesday 14 May Buskers Night at the Step, Myddleton Road
Thursday to Saturday 16-18 May St John's Players present Hobsons Choice at the St John's Hall
Friday 17 May St Harmonicas Blues Club
Saturday and Sunday 18-19 May Grovelands Park Festival
Thursday 23 May The New River – a Discover London talk by Peter Berthoud at the Step, Myddleton Road
Friday 24 May St Harmonics Blues Club
Sunday 26 May Plant swap at the Broomfield Conservatory 2.40 to 4.30
30 May to 1 June Acorn Theatre Group present Grease at the Intimate Theatre
Sunday 2 June Live celtic music from Maurice Judge at Broomfield Conservatory 2.30-4.30
Sunday 2 June New River Walk – Hertford to Enfield led by John Polley of the New River Action Group. More walks planned over the summer.
Saturday and Sunday 8-9 June Open Studios and Art Trail
Sunday 9 June Art workshop in Broomfield Conservatory
Saturday 15 June Palmers Green Shopping Festival
Sunday 1 September Palmers Green Community Festival