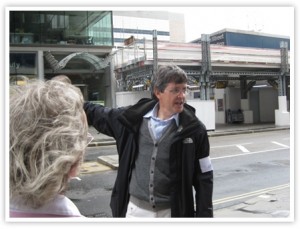 Local storyteller and City of London Guide Joe Studman heads out on the streets of Southgate this Sunday to tell the story of the town's gradual emergence from two villages, and some of the characters who have lived there and shaped its history
Joe will be introducing the owner of the first motorcar in Southgate, the lawyer who played with matches and got burnt, and telling the story of the Walkers and how they shaped the area.
The 90 minute walk is being run in association with the Southgate District Civic Trust. Meet at Southgate Tube at 2pm. £5.00 £3.00 Concessions. For more information about Joe's walks visit http://www.jaywalks.co.uk.
Highly recommended!