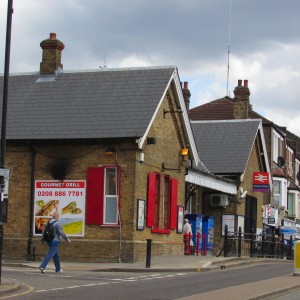 Its official – Palmers Green is one of the busiest stations on First Capital Connect's great Northern Route.
Data published by the Guardian this week revealed that more people got on or off a train at Palmers Green than almost any other station on the route, with the exception of Moorgate and Kings Cross (as these are exit points for other lines, the numbers arriving or joining FCC have not been separately measured).
Palmers Green had 1,662,004 entries or exits in 2011/12, and if you had a suspicion that the station is getting busier, you would be right. Its a 2% increase on 2010/11.
The figures for the route, in descending order, are
Palmers Green 1,662,004
Letchworth 1,523,282
Winchmore Hill 1,423,616
Old Street 1,336,722
Hertford North 1,290,728
Enfield Chase 1,248,758
Alexandra Palace 1,157,282
Hornsey 1,129,648
Gordon Hill 1,088,830
Haringey 1,062,026
Bowes Park 814,562
Cuffley 658,354
Drayton Park 505,230
Essex Road 482,764
Completists will be disappointed to see that Crews Hill and Bayford arent listed.
There are hours of fun to be had on the Guardian's website, where you can search the data using the interactive table http://www.guardian.co.uk/news/datablog/2011/may/19/train-stations-listed-rail#data