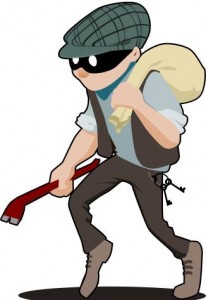 We don't normally cover crime on this site. Lots of other sources do that.
But recently PGJITN itself became a crime statistic. As usual the method of access was the back of the house. Pilfered items included a laptop which is so slow that we were often near suicidal before it finally consented to do what we asked of it (i'd like to think that the person it was sold on to has already gone round to ask for his or her money back with menaces). All is now boarded up courtesy of our friendly local carpenter who also kindly offered to write 'piss off!' on the parts visible outside. Crime prevention in action Palmers Green!
Unfortunately among the losses were a couple of upcoming articles and almost all the pictures for this site, so we don't have anything much to use for posts until we write some more and then go out with a camera (and have you noticed how cold it is outside?). If you have any pictures of the area you would be happy to let us use (fully credited and your copyright retained) in our picture library for the site please email us.
A word of thanks to the police officers from Palmers Green who have been wonderful. They were here within half an hour, the forensics lady showed up promptly the following morning to dust for finger prints, and the Safer Neighbourhoods Team came by later to give us advice on security.
With the help of the police we have also been able to develop a full description of the perpetrators. They are bastards.
But they aren't going to get us down. Please take a moment this week to take a look at whether your house is as secure as it should be. For more information visit the Operation Bumblebee website .