Its been a busy October for us Palmers Greeners. A few of the things we learned this month …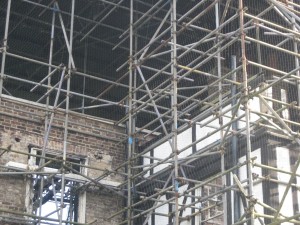 Enfield Council, together with the Broomfield House Trust and Friends of Broomfield Park put in a £4 million bid to the Heritage lottery fund to restore Broomfield House. There is a new website to accompany the bid.  We should find out whether it has been successful in February 2013  …  David Burrowes MP could be getting his edges tweaked in the new constituency boundary changes prop0sed by the Boundary Commission. The changes are currently subject to consultation  …  Theresa May announced that Palmers Green hacker Gary McKinnon will not stand trial in the US after a long national campaign. David Burrowes threatened to resign as PPS if McKinnon was extradited … Well over one thousand people in people in Enfield had already signed up to the petition about local control of GP services as part of the campaign being run by 38 Degrees – sign and view the latest total visit http://action.38degrees.org.uk/ccg_postcode.  A meeting was held at the Harvester in Arnos Grove to discuss how to ensure the Clinical Commissioning Group being established for Enfield takes into account the wishes of local people …
Worried about neighbours building a sky scraper in their back garden and overshadowing your dahlias? Enfield Council said no how, no way, were they going to implement the government's changes to the planning system, while in another part of the forest, delegates at the recent conference of Civic Voice also called on the government to scrap the proposals … The North West London Waste Authority began a charm offensive, with a stall in Morrisons and local leafleting.  There, a massive incinerator on your doorstep at Pinkham Way doesn't seem nearly as bad now, does it? …..
If you are planning a Sunday trip up town, First Capital Connect provide some advice on how you can get there in only an hour and a half – pretty much no direct trains to Kings Cross until Christmas on a Sunday, unless you get up early. ……. heading the other way up the railway line, a new farmers market opened at Crews Hill. Good reports so far and we wish them well but it is a little bit naughty to say on their website that they are the first and only farmers market in the borough of Enfield. It would be lovely if a few more people could visit our long established farmers market in Palmers Green – Sundays, station car park. There have been a few new stalls recently, and with more footfall it could expand further.
This month we also learned that …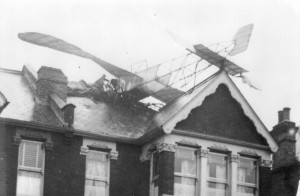 in the old days, you could crash your plane into a roof in Palmers Green, and calmly smoke a cigarette before even bothering to climb down …. Myddleton Road was once paved with wood …. Southgate Town Hall is featured in the new Morse prequel Endeavour … The Duke of Chandos may once have lived at Broomfield House, and the Lanscroon murals currently reputed to be languishing in the basement of the Town Hall could have been created to impress a monarch. We also heard about the charms of the long gone Broomfield House Museum… but could it live again?
And finally
David Waumsley of the wonderful Palmers Green based Art Cove cards (sold by Anita at PG station cafe) challenged us to a Smiths lyrics stand off a la Chris Packham, and got bored before we did. I am sure that a common experience among PGJITN's readers. Without the Smiths bit.
Anyway, enough wittering. If there is a topic you would like to write about, why not get in touch, especially if its about history and people? We would love to hear from you. There is a huge knowledge about Palmers Green out there … lets try and put it all together.
May November bring you great good fortune.
Sue, Palmers Green Jewel in the North
Coming soon
Friday 2 November  Bob Mills at the Electric Mouse Comedy Club at the Fox. Ricky Grover will also be performing in December.
Sunday 4 November Preparing the Garden of Remembrance in Broomfield Park for Remembrance Sunday. If you have some time to come and help park staff, please come to the Garden between 10 and 12
Friday 9 November Big Green Bookshop Bookswap featuring special guest the Rev Richard Coles Great Northern Hotel Hornsey (new bigger venue for this regular event from the fantastic independent Wood Green bookshop)
Sunday 18 November Herbs and their uses at the conservatory Broomfield Park
Saturday 24 November Christmas Bazaar at the Ruth Winston Centre
Saturday 8 December St Nicholas Fair Winchmore Hill Green. Following on from the summer's fantastic Winchmore Hill Festival: this!
Saturday 8 December North London Symphony Orchestra perform at the United Reformed Church 7.45 pm  – Wagner, Mahler and Franck
Sunday 30 December Floating Lanterns on the Boating Pond, Broomfield Park