Nomination for the local list of heritage assets: 130 Fox Lane and 63 Bourne Hill
Like any other place with a reasonable sized population, Palmers Green has had its fair share of famous people, in particular writers. Most people know that PG was home to Stevie Smith for most of her life, but less celebrated is Paul Scott, writer of The Jewel in the Crown, part of his Raj Quartet. Scott, by then living in Hampstead, won the Booker Prize in 1977 with his sequel to Raj, Staying On.
Scott was born on the 25 March 1920 in the upstairs front bedroom of his parents' house at 130 Fox Lane. His father, a Yorkshire man, had come to London two decades earlier, and worked as a commercial artist to the fashion trade alongside his unmarried sisters (their studio was a three story Edwardian gabled building called Wyphurst in Southgate High Street).
The Scott family, says biographer Hilary Spurling, allowed themselves the luxury of feeling they were a cut above the neighbours – Tom Scott was the only 'professional' man at their end of Fox Lane. The hauteur however was masking something rather different. Scott's mother Frances, a women who herself had creative ambitions, came from the wrong side of the tracks – the dreaded south London – was the daughter of a labourer and had a sister who was in service. Frances was apparently acutely, almost obsessively aware of their precarious social standing in their new posh suburb. Safe to say, her sister wasn't a particularly welcome visitor.
Before we allow ourselves to think Frances odd, we need to bear in mind that the hard work involved in maintaining a veneer of respectability in Palmers Green of the 1920s seems to have been all consuming and frankly exhausting. It wasn't unusual for neighbours who couldn't pay the bills to suddenly disappear having done a moonlight flit. Other crimes which could lead to being hounded out included such horrors as eating in the kitchen, or doing the washing at the weekend. Palmers Green was new, and its residents new newly respectable. Risk showing it and lowering the social tone – and you were out.
Scott later often said that the social divisions he found when he first journeyed to India in 1943 were little different from those he remembers from his childhood in Palmers Green: "When I lived there we were as aware of social distinctions as they were in Mayapore.". He did what any good writer would do, and put them in his books. For India, read Palmers Green.
Scott's Palmers Green childhood was up and down. He and his brother were initially educated at a prep school linked to Winchmore Hill Collegiate School, in a hall just a few steps away from their house (probably Amberley Hall which was on the north side of Fox Lane, now demolished). But the Scotts were forced to leave Fox Lane in 1933, as the depression hit, and moved in with the aunts at Wyphurst, causing all kinds of family tension. By 1934 financial difficulties meant that Paul had also to leave school, though he was not yet quite 15, and forced by his father to become an accountant.
In June 1939, finances improving, the family moved again, first to Cannon Hill – father and son celebrated with a pint in the Cherry Tree – then back to Palmers Green, to 63 Bourne Hill, on the south side of the road near the covered reservoir.
Paul's room in Bourne Hill was at the front, above the garage you can still see today – he spoke of it as the room where he 'really began to write'. It was also where he met the poet Clive Sansom and his wife Ruth, who lived next door in a flat at no 61 Bourne Hill. The Sansoms weren't your typical neighbours. At the time Scott met them, they were rehearsing a part sung, part spoken recital of T S Elliot's The Waste Land. Scott and the Sansoms became extremely close, and were to have a considerable effect on his early life and writing, sharing ideas and their latest work in a slightly intense and claustrophobic threesome.
Scott joined the army as a private soldier in July 1940, as the bombs fell on Southgate. Though far from the worst hit in London, one hundred and 18 bombs and two mines fell on Southgate in October 1940 alone, including one which hit and demolished two houses in Fox Lane. Later that year, tragedy struck when Scott's aunts' house, Wyphurst, was destroyed by a time bomb which had lain unexploded in the house. Both of his remaining aunts were killed, one outright, the other as a result of her injuries. Meanwhile, Scott rose to lance corporal, but was busted back down to private in early 1941, following a mysterious incident which Hilary Spurling indicates was probably related to a sexual indiscretion with another soldier and caused a near nervous breakdown.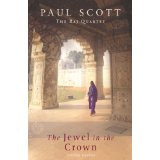 His life changed with a posting to India as an officer cadet came in February 1943 – he eventually rose to Captain in the Indian Army Service Corps. The war over, Scott returned to London in 1946 and resumed work as an accountant before becoming a literary agent, representing Arthur C Clarke, Elizabeth David and Mervyn Peake among others.
He published his first novel, Johnny Sahib in 1952. From 1960 he devoted himself to writing entirely and began work on the Jewel in the Crown, the first novel in the Raj Quartet, at his home in Hampstead in 1964. The story, beginning with the rape of Daphne Manners and its consequences, is set against the background of the partition of India and the creation of Pakistan, one of its key themes, life as an outsider in your own country, just has his family had been in PG.
Scott struggled for most of his career to make money from his novels, plays and poetry and often supplemented his income with journalism. Though The Raj Quartet is the work for which Scott eventually achieved greatest fame, it was his last novel, Staying On, for which Scott achieved widespread recognition, with the award of the Booker Prize in 1977, just a year before his death. Six years later, the Raj Quartet was made into a 14 part TV series under the title Jewel in the Crown by Granada TV; it continues to be one of the most highly rated television dramas series of all time, and made actor Charles Dance famous.
Scott died in 1978, aged just 57, following a struggle with cancer of the colon and the effects of a longstanding difficult relationship with alcohol.
By that time he had not lived in Palmers Green for many years, but his parents appear to have remained here, possibly into the 1960s. Tom Scott died in 1958, and Frances in 1969.
This article has been prepared as part of the process to nominate buildings and landmarks to Enfield's updated local list. For more information see http://www.palmersgreenn13.com/2015/09/11/every-street-in-palmers-green/. And if you have any suggestions for buildings which aren't listed but should be included in the local list, please get in touch. But do get in touch soon, as submissions need to be in by the second week in November.