The realisation of plans to create a new community café in Broomfield Park is one step closer.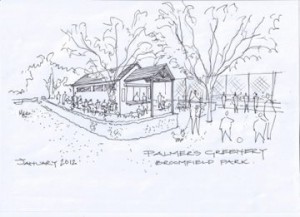 Last week Enfield Council placed an advert in local press inviting expressions of interest for the provision of a 'Community Facility' in the park. Meanwhile an architects drawing of how the new café might look has been unveiled by the Palmers Greenery team.
Enfield's advert paves the way for the Palmers Greenery group to make a formal application to open a new café in the park and is an important milestone in a community project initiated and led by local Palmers Green residents in association with the Friends of Broomfield Park.
Over the last year, the Palmers Greenery team has been working to develop a business plan, engage with local stakeholders, and establish a positive working relationship with London Borough of Enfield. Importantly, they have also been able to secure the ring fencing of £35,000 to cover start-up costs from the Enfield Residents Priority Fund.
The intention is that the Palmers Greenery will be child-friendly and serve affordable, healthy and, where possible, locally sourced food. All surplus generated by the Palmers Greenery will be re-invested directly back into Broomfield Park for park enhancing purposes.
"We welcome LBE's willingness to embrace new ways of working collaboratively with the community", says Sarah Cotton of the Palmers Greenery team.
"This project is a real opportunity for LBE to demonstrate that it is listening and responding to local people. We will be working very hard over the next few months to ensure our submission is as robust as possible."
If you have any specific expertise that you think will be helpful to the Palmers Greenery team as they put the final tweaks to the business plan, please get in touch .