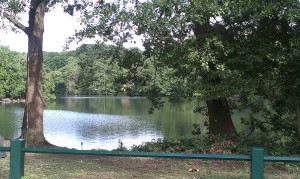 A letter sent to local residents last week has sparked alarm about the Council's  plans for the future of Grovelands Park.
The letter, from Gary Barnes, Assistant Director of  Regeneration, Leisure and Libraries, states that the Council are planning to 'invest in' and 'redevelop' the ancient park. The intention is to conduct an historic parks survey and develop a management plan – both of which are standard good practice in parks management – but also to explore the options for introducing a new two form entry primary school and improve sports facilities. The intention is also to 'open up' the park, including lands owned by Thames Water though it is unclear what this opening up might mean.
Mr Barnes states that plans are at an early stage and Enfield therefore feel that it is the right time to talk to residents and stakeholders and explain their plans.  If you want to take part, you don't have much notice though – the meeting is tomorrow 18 July, at 4 in the public restaurant at Southgate College.  What do you mean "but I'm at work"?