Some of  you will have seen this story before but following the sad death of one of British music's true influencers, here is my article about the  time he came to Palmers Green.
In November 1968, a 21 year old David Bowie appeared at the Intimate Theatre Palmers Green in a mime improv production called Pierrot in Turquoise.
At the time Bowie had only released one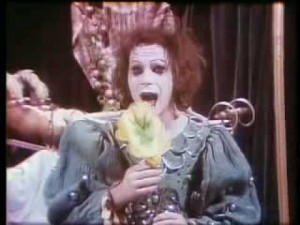 album as a solo artist and was still 8 months away from the breakthrough single Space Oddity. (Laughing Gnome had been released in 1967, but  would not be a hit until 1973).
Devised by dancer and coreographer Lindsay Kemp, who was to radically influence Bowie's approach to performance, the five songs featured in the production were all written by Bowie. The four nights at Palmers Green appear to have been the last time the production was performed live.  However, the production was filmed in 1970 by Scottish TV as Pierrot in Turquoise/The Looking Glass Murders.
The website IMDb.com gives the plot synopsis of the TV version thus
 "Pierrot is a freaky mime who ventures into a mirror where he falls in love and rolls around with the equally grotesque Columbine. But when Columbine beds black stallion (in half-assless spandex) Harlequin, Pierrot's jealousy takes over and drives him to murder. Cloud (Bowie) watches over the proceedings from his perch (on a ladder!) and narrates in song."
Comments IMDB contributor Vinnie Rattolle:
 "Weird" doesn't begin to describe this one. It begins and ends with a man playing piano, but no sound is emitted. The sparse production doesn't betray its theatrical roots — there's a grand total of two sets and they make no attempt to disguise the fact they're thrown together on stages. While I've never found mimes as unsettling as most, the trio in this film are REALLY creepy. And although it has a short running time of 26 minutes, it's so tediously strange and surreal that it felt like it was three hours long."
Judge for yourself! You can view a clip here.
Did you see Pierrot in Turquoise in Palmers Green? Tell us more!
For further information about David Bowie's early performances, visit http://www.bowiewonderworld.com/tours/tour58.htm