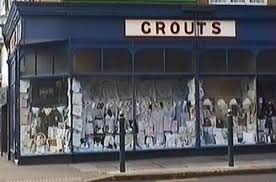 Talk to any Palmers Greener who has been here much more than a decade and the name Grouts will send them of into a trance of dreamy remembrance. The place with the cash railway, for schoolwear, for underwear, for you-just-couldn't-get-anywhere-else wear.
The exercise to compile the local list of heritage assets isn't just about proposing new entries, but checking on old ones. Some of them have been lost since it was last updated, like the Pilgrim's Rest in Hazelwood Lane. Grouts is gone too, but not the building, and not quite all of the frontage (in fact, not even the last signage – you can still just about make it out in Devonshire Road) though some has been lost.
The last local lists said that the frontage of Grout's was possibly original. Sue Whittemore, whose family owned Grouts from its opening during the First World War, has got in touch to confirm that it is indeed original, or at least it was until the shop doors closed in 2002. She has also provided the proof – six pages of documents from Pope's the shop fitters of Kilburn dated at the end of 1914. The original Grouts lettering was in gold leaf, the woodwork in polished mahogany with inserts in matchwood, polished glass frontage complemented with beaded glasswork.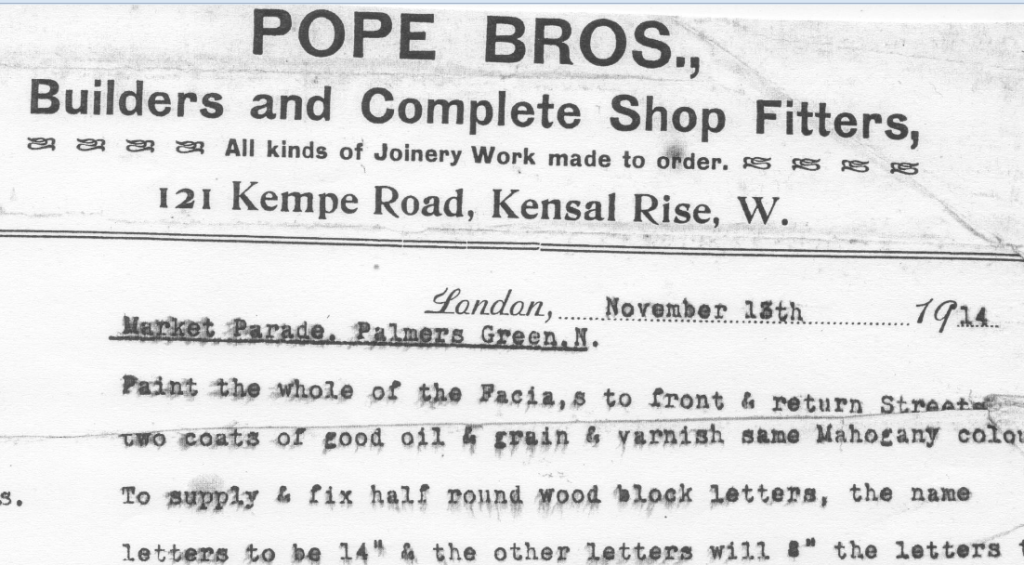 Sadly the individual glass panes you can see on the photo of Grouts dated xxx have been lost, replaced by single sheets, and the colour scheme of Skate Attack tends to the garish. But the overall shape and top fascia are there, as are some of the original floor tiles.
Is that enough for repeat listing among Enfield's Heritage Assets? I don't know, but I know that Grouts is forever listed in Palmers Greeners memories…
In case you haven't seen it, here is a wonderful video about Grouts by Tec Evans– featuring Sue Whittemore. There is also more about Grouts and its 'Terminal Vests' here
This article has been prepared as part of the process to nominate buildings and landmarks to Enfield's updated local list. For more information see http://www.palmersgreenn13.com/2015/09/11/every-street-in-palmers-green/. And if you have any suggestions for buildings which aren't listed but should be included in the local list, please get in touch. But do get in touch soon, as submissions need to be in by 22 November.