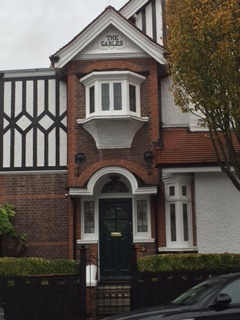 There are many houses of considerable Edwardian style in Palmers Green, but perhaps the one which is the biggest surprise on an afternoon mooch around our local streets is at the bottom end of Osborne Road where it meets New River Crescent. Splendidly perched on the corner lot, the Gables is a beautiful creation in stucco, exposed wooden beams and stained glass, domestic Edwardiana at its best.
It feels like a gift to Palmers Green, and a gift is what it once was. The Gables was built in 1906 by Albert Frederick Simmonds, architect and builder of the Hazelwood Park Estate, as a wedding gift to his bride Maud. Better still, it is still owned by his descendent, grandson John Peace, over one hundred years later.
The Simmonds were a family of East End painters and decorators who lived in the Columbia Road area. Born in 1873, Albert had trained as a surveyor before beginning building in Palmers Green. His first Palmers Green house was completed in 1900 and then in the early 1900s he bought part of Hazelwood Farm, the main buildings of which were located roughly where the junction of Hazelwood Lane and New River Crescent is today.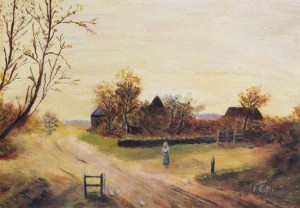 He went on to build 215 houses between 1905 and 1910 – including his own, then on a much bigger plot with room for a detached garage and tennis courts. The story goes that Maud was not allowed to see either the building or the plans until the day they moved in. Sadly Albert did not have long life to enjoy what he had created at The Gables. Having achieved so much before he was far into his 30s, he died aged 46.
Today, we know the area as the Hazelwood Estate, the harmonious streets of houses which lie to the west of Green Lanes between Hedge and Hazelwood Lanes, including Osborne Road, Park Avenue, Kingsley Road and New River Crescent. But few are looked after with the same evident pride as The Gables.
For more about Albert Simmonds, see John Peace's interview with Palmers Green Tales and Keith Cunningham's article about the Hazelwood Estate in Palmers Green and Southgate Life
This article has been prepared as part of the process to nominate buildings and landmarks to Enfield's updated local list. For more information see http://www.palmersgreenn13.com/2015/09/11/every-street-in-palmers-green/. And if you have any suggestions for buildings which aren't listed but should be included in the local list, please get in touch. But do get in touch soon, as submissions need to be in by the third weekend week in November.