The London Borough of Enfield is 50 today! No, really…
In 1960 a Royal Commission on London Government proposed radical changes in the organisation of London government. The result was the abolition of the Middlesex County Council and The London County Council, to be replaced by the Greater London Council, which of course was itself later abolished under Margaret Thatcher.
Long established districts were joined up into larger units to form the new London Boroughs, and Edmonton, Enfield and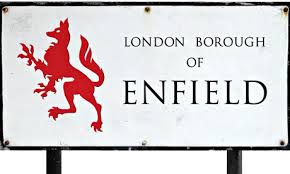 Southgate were amalgamated and took on the name of "Enfield" to form the London Borough of Enfield.
The new London Borough of Enfield set its best foot forward  on the 1st of April 1965, fifty years ago today. And now  here we all are.
Enfield will be celebrating the anniversary with a range of activities, set to include 1960s themed festivals, walking tours, a photo archive and film events, competitions and new factsheets about Enfield.