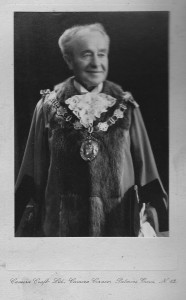 Does anyone recognise this smiling local dignitary?
Jane Lloyd contacted us recently in the hope that someone in the area can provide  information on the portrait, which she found in one of her family albums.
His name may have been Gibbs or Hole and it seems possible that he was a mayor or councillor of Southgate between the wars.  Says Jane, it says Palmers Green on the back of the photo (and Camera Craft PG on the front) but there is no further information, and she is not aware of any particular family connection with the area. Unless you know differently….