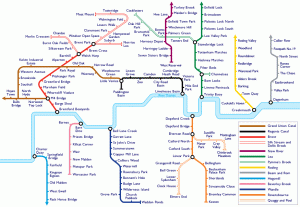 What does Palmers Green sound like?
One answer is contained in a new sound map produced by a fascinating London website, London Sound Survey. The map pays tribute to Beck's iconic map of the underground, but instead of tube lines, the focus is on waterways, or more accurately, the sounds around London's Waterways, including the New River at Palmers Green, and at other sites as the 400 year old man-made water course makes its way into the city.
In the Palmers Green recording, taken at the New River by Oakthorpe Road in September 2011,  you can hear traffic, children playing outside the mosque, birdsong, airplane drone, and in a back garden a mastiff begins barking.
Elsewhere on the site there is a two-minute recording of Green Lanes at Palmers Green – mostly traffic, speech and the obligatory car horn.  The sounds are somehow soothing, and make you wonder what Palmers Green might sound like in 50 years time and how strange the sounds might be to our descendents.
The map is part of a much wider website dealing with sound in the capital – now and in the past. There are some wonderful things contained therein and I really can't recommend it highly enough.
One to explore