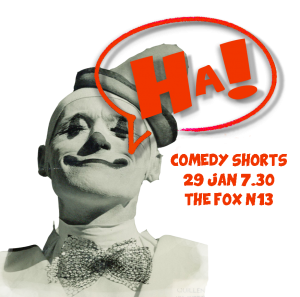 Frankly the weather is abysmal but next Wednesday (29 January) Talkies Community Cinema plans to fill PG with cheer with a special programme featuring London's young film makers.
Showing at the Fox, the evening of short comic films will be introduced by and MC'd by actor Gem Carmella, who has graced our screens in The Bill, Casualty and Holby City. There is even one with that nice Martin Freeman.
Here some teasers for the programme
Do estate agents fulfil your dreams?  Kate Herron might answer that in Open House
You will order your coffee carefully after Marc Hardman shows We Are What We Drink
The Wizard by Simon Guerrier gives a comic slant to a 'back to work' scheme
Cat lover or not, Pussy People from Andrew Lang will raise a smile
Chris Shepherd, an experienced animator and engaging raconteur will show three animated films – Broken Jaw, Don't Fear Death and his collaboration with artist David Shrigley Who I am and What I Want
Martin Freeman takes on a very different persona in The Girl is Mime by Tim Bunn
Dan Turner's Storm animates Tim MInchin's beat poem about alternative lifestyles.
and all for a modest fiver.
You can get tickets by booking online, or direct from Annita at the Palmers Green station kiosk, or Anthony Webb estate agents.