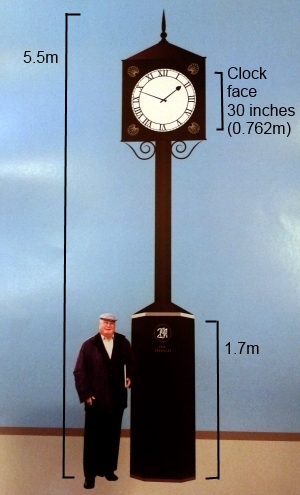 Local residents are being asked to give their opinion on designs for the new clock tower at the Triangle in two consultations this month, one being run by the Green Lanes Business Association (GLBA), the other by the Palmers Green Community website.
The plans to erect the clock tower follow on from an application to the Enfield Residents Priority Fund by the GLBA. The longer term future of the Triangle area remains uncertain – a more fundamental make over could still be a long way away.
The design itself has been developed by GLBA Chairman Costas Georgiou, Mark Leaver of Enfield Business and Retailers Association working with Kareen Cox, a local graphic designer. Triangular in shape, it draws on the architectural motifs of neighbouring buildings. Once finalised the plan is for the new monument to be made by Palmer's Green's Triangle Metal Works.
Comments on the design are requested by 31 January, and can be sent to Makr Leaver mark.leaver@ebra.org.uk or Costas Georgiou costas.georgiou@ebra.org.uk .
Meanwhile Palmers Green Community's survey takes a wider view, asking for residents' views on whether there should be a clock tower at all, whether they like the clock design, what they like and dislike, whether they want the Triangle traffic island to remain, and ideas about how it could be improved.  Palmers Green Community website has published some of the first responses, which make interesting reading. There is still time to take part by clicking here.