Some things are hard to express in words. Some things must be understood and remembered, because the price of not understanding, not remembering, is too high.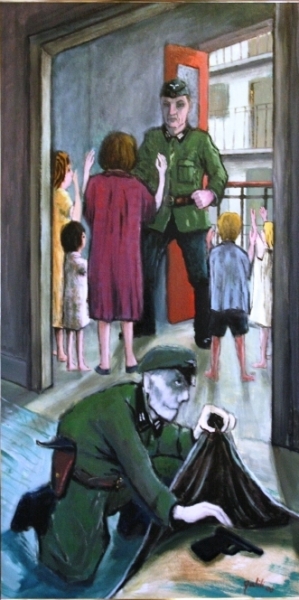 Artist Moshe Galili and his wife Ruby live locally now. But in 1944 fourteen- year-old Moshe (then Andor Guttmann) lived in German occupied Budapest. His family had been forcibly relocated to one of the 'yellow star' houses designated for the Jews of the city. Moshe, his mother Serena, and his sisters managed to survive until Hungary was liberated by the allies, often hiding in cellars but his father was shot while fighting in the Jewish armed resistance. In all, 555,000 of the 825,000 Jews who had lived in pre-war Hungary were killed in the Holocaust, the majority in Auschwitz.
Moshe's exhibition at the Dugdale Centre in Enfield, 20 Jan to 17 Feb, entitled Watch Out! is a warning echo based on his experiences during the Nazi period.  These are not things which can allowed to be simply consigned to the past, is the message. We must be vigilant, and determined to fight discrimination, anti-Semitism and racism, because the risks have not gone away. Indeed, anti-Semitism is on the rise again in Hungary and across Europe, in particular in those countries which were once part of the old Soviet bloc
The injustice to the victims of the Holocaust and the strong return of the age-old anti-Semitism propelled me to paint my pictures through which I hope to warn the viewers to watch out because the evil in humans is never far below the surface.
Moshe's work is stunning and powerful and must to be seen. The paintings are accompanied by a description of his experiences in the war, words which are immediate and equally powerful.
To coincide with the exhibition, Talkies Community Cinema will be showing the film Fateless. It tells the story of  14-year-old Hungarian Jew György Köves, whose arrest on a bus in Budapest leads to near death in German labour camps, and his struggle to reconcile himself to these events in the years after the war. Tickets are £5. For more information and to book, visit http://talkies.org.uk/future-events.
The exhibition is free.