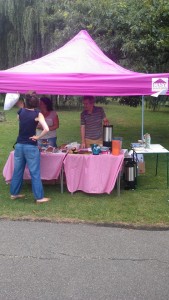 Palmers Greenery will have a pop up cafe tomorrow from 11-4 as part of Broomfield Park's packed programme for Love Parks Week.
Love Parks week aims to raise awareness of the importance of parks and green spaces, showcasing the benefits they bring and highlighting the need for continual investment and engagement. It's an urgent issue, as the organisers Keep Britain Tidy point out on its website "Sadly, as the nation comes to realise the benefits green spaces bring to our lives and communities, funding is being dramatically reduced."
Also part of Broomfield's Love Parks celebrations, the conservatory will also be open every day from 2.30-4.30, offering a children's quiz and tree trail; Broomfield Community Orchard will be conducting an audit of wildflowers on Wednesday afternoon and there are also opportunities to try a new sport, including bowling and croquet.  This years annual bandstand concerts also kick off this Sunday with an open mike session from 1pm, followed by an afternoon of acoustic blues from 2-5. There will then be music each Sunday throughout August.
See the Friends of Broomfield Park website for full details of all events.